A city code enforcement hearing is set to deal with barking dogs at a dog spa in the Irish Channel, an unpermitted backyard building, three paved yards and other zoning issues on Wednesday morning.
The recently revived One Stop Shop hearings are meant to deal with unresolved zoning issues flagged by Safety and Permits, the Historic District Landmarks Commission and the Vieux Carré Commission.
The owner of the property at 4825 Miles Dr. in Gentilly has constructed two houses on one lot. In an Oct. 24, 2012 letter, the Department of Safety and Permits asked the owner to "reduce [the] building to meet zoning code restrictions" or obtain a waiver from the Board of Zoning Adjustments.
Zoning Inspector Jason Lee goes on to say that Safety and Permits "is seeking your cooperation and voluntary compliance" and that failure to comply could result in a fine or jail time.
That apparently wasn't enough to prod the owner to act, so the case will now go before a hearing officer.
The owner obtained a permit for a garage, but an aerial photograph shows a building substantially higher than the 14 feet allowed for a building in a backyard.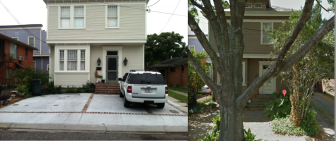 Also on the agenda is a paved front yard on Washington Avenue in the Garden District. At a hearing in June, the owner was ordered to tear up the concrete, but it remains.
Another paved front yard, at 1412 Milan St., is on the agenda, too. It appears that the owner cut down some trees to expand the front yard parking area.
Neighbors of Belladoggie, the dog spa, have complained about persistent dog barking from an area behind the building.