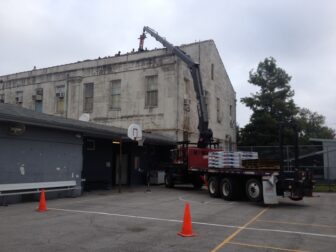 During the first week of school, staff at Audubon Charter undertook an all-too-familiar task — mopping up rainwater that comes pouring into the old Carrollton Avenue courthouse building every time there's a downpour.
School staff had been complaining about the building's state of disrepair since they got their charter and expanded to the location following Hurricane Katrina. Since then, Hurricane Isaac stormed in, leaving an estimated $15 million of severe roof and other structural damage.
 In June, the crumbling building on 719 S. Carrollton had gotten so bad that parents called the resulting air quality a "medical nightmare" for students with respiratory problems.
On Saturday, during the charter's monthly board meeting, there appeared to be a little light at the end of the tunnel, in the form of a truck, a ladder and workers patching shingles on the roof of the main building. The workers had already fixed the roofs of some of the portable buildings, charter board members said.
"It actually did not rain in there this week," Audubon's Operations Manager Alisa Dupre said. "So that was really good news!"
But leaders say that although dry hallways provide welcome respite, the timing of the repairs doesn't make sense. Audubon was slated to move into the old McDonogh 7 building at the start of this school year as a "swing location," until a permanent location is finished as part of the The School Facilities Master Plan.
"The taxpayers should be upset," board member Eva Alito said, referring to a $136,200 contract for year-old roof repairs at a campus that was supposed to be abandoned by the school already.
At the end of last year, a discovery of lead paint in the McDonogh 7 campus on Milan Street delayed the school's move. While Orleans Parish School Board officials didn't give a set date, it was estimated that teachers would start packing their boxes towards the middle of the 2013-14 school year.
Now, as contractors for the Orleans Parish School Board "inch along on making progress," the list of repairs on Milan Street is steadily growing, Alito said. A hodge-podge of structural problems, including termite damage that needs to be assessed, could delay the school's move until even later.
The board also needs to do an asbestos assessment, Alito added, and needs to lay out the plans for where to put new portable classrooms, dumpsters and a playground.
 "There are a number of details that have not been finalized yet," Alito said. "I advise that the teachers keep all their stuff right where it is, until we have some sort of ribbon cutting."
But school officials are hoping that they won't have to stay on Carrollton, or any other temporary location, for long. Major renovations on the permanent Broadway campus are still slated to be finished for the spring, according to principal Janice Dupuy. 
In the meantime, it's unclear to school leaders just what will happen to the building on Carrollton when Audubon finally leaves.
Audubon officials have invested a lot in the old building, even before this costly roof repair. Among other things, Audubon has arranged for retiling, paint jobs and the new lockers installed in the hallway.
"We've done a significant amount of work," Dupuy said.
But when Audubon leaves, kids may not even be able to enjoy those renovations. In fact, Dupuy said she guesses that the building may very well be auctioned off.
"I can't imagine that they would let another school in here, with all the problems that the building has," Dupuy said about the Carrollton building, which used to house Lusher Elementary Extension.
Saturday's meeting was informational only, since the board did not have a quorum. Only three board members were present – Vice Chairman Derek D. Bardell, French Parent Representative Gregory Thompson and member Eva Alito. The meeting started just after 10:30 and lasted for about an hour.