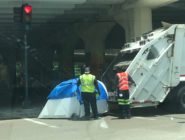 As Tropical Storm Barry bears down on Louisiana, city of New Orleans officials are working to manage one of the city's most vulnerable populations: unsheltered homeless people. The plan is to expand the capacity of the network of homeless shelters to accommodate anyone who needs room, then try to urge as many people inside as possible. 
The plan also involved a round of homeless encampment sweeps on Thursday morning, which included the administration's policy of throwing out all unattended tents. 
According to Sarah Babcock, the New Orleans Health Department's healthy population and planning manager, there are roughly 400 more homeless people in the city than there are beds in homeless shelters. 
"We've been in contact with all of the homeless shelters, and just as they do in any disaster like a storm or a freeze night, they have the capacity to take in extra people," said Health Department Director Jennifer Avegno.
|