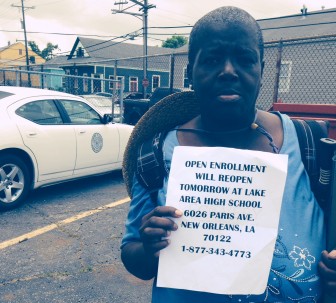 Hundreds of parents showed up at the Recovery School District's Family Resource Center in the St. Roch neighborhood Wednesday to enroll their children in school, only to leave frustrated, angry and still without a seat in a classroom next year.
According to several parents, the line outside the center at 2521 Marais St. extended around the block as early as 7:30 Wednesday morning, when the center opened.
The office was supposed to be open until 5 p.m., but parents were turned away hours before.
They were told to try again Thursday at Lake Area New Tech Early College High School, a larger facility.
"They have more space; they can serve more folks," said Recovery School District spokeswoman Zoey Reed.
About 800 parents showed up, Reed said. Based on the past two years, the district was expecting about 100.
Christina George, who lives in eastern New Orleans, said she had waited in line since 6:45 a.m. but couldn't enroll her three children. "This is crazy, and I'm fed up!" she said.
Enrollment at most New Orleans schools is handled through OneApp. That process starts in December, and those deadlines have already passed.
Starting Wednesday, anyone who wants to switch schools or enroll for the first time — such as families moving to New Orleans — must do so in person. It's first-come, first-served.
Susanna Howard said she wanted to move her niece from Joseph A. Craig Charter School in Treme to a school closer to her home in Mid-City.
She said she was in line before 7 a.m., but when she got to the door about 8 a.m., she was turned away. Howard said that only the first 300 were allowed to enroll today, which Reed confirmed.
Howard waited until 1 p.m. to get a number for her place in line on Thursday.
"People had to come from all over — Uptown, New Orleans East — to this parenting center," she said. "That's wrong! Why did they have to close the [other] parenting centers?"
Community activist Karran Harper Royal waited outside the center to talk to parents and assist them as she could.
"Why did the RSD close schools when there is a need for seats?" she asked, referring to the RSD's decision to the last few schools under its direct control, leaving only charter schools.
Uptown resident Marcel Reed also failed to get his daughter registered.
"We might go through the same thing we did today at Paris Avenue," he said. "This is a major problem because we got to get these kids in school."