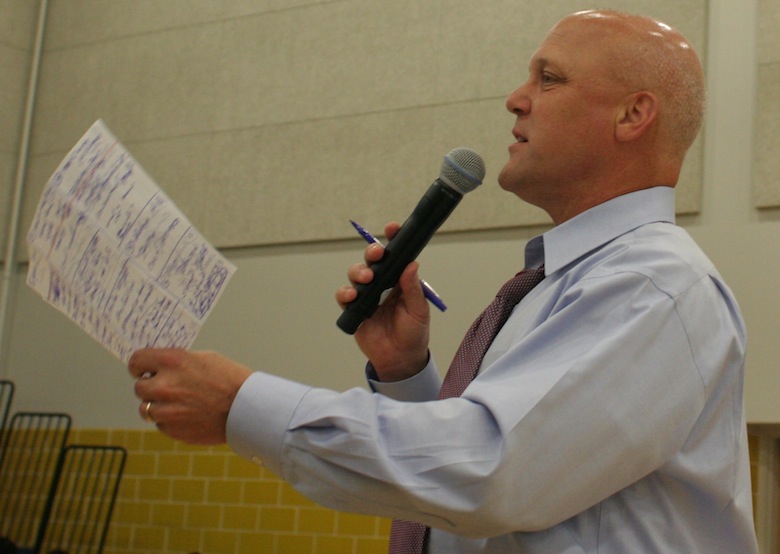 Mayor Mitch Landrieu will hold his fifth town-hall meeting on the 2014 city budget Wednesday night at 6 p.m. in City Council District B, which includes the Central Business District, Mid-City, Broadmoor, Central City and the Garden District.
The meeting will be held at KIPP Central City Academy, 2514 Third St. The Lens will live-blog it below.
District B is the final stop this year in Landrieu's annual citywide budget tour.
At the meetings so far, he has heard similar complaints about the city's persistent problems, such as pockmarked streets and overgrown lots. However, during Monday's meeting in District D, writer-director-comedian Harry Shearer brought up a new topic.
"Could you tell us what your position is about the levee board's lawsuit against the oil companies regarding coastal restoration?" Shearer asked. Landrieu did not answer the question during the response portion of the meeting.
Many other attendees were concerned about what they saw as the slow pace of economic revitalization in their neighborhoods compared to others. A number, as always, asked about the poor state of interior roads and blighted properties.
On blight, Landrieu said the city is taking a more aggressive stance with property owners, hoping to force them to take on the expense of blight mitigation themselves. With decreased federal and state revenues coming in, he said, the city can't afford to mitigate these problems on its own.
"The federal government, they're not sending money down here. They're cutting. And the state's doing the same thing," he said. "Whether it's senior centers, whether it's roads, whatever. They're sending all of that down here. And you have to pay for it."
A lack of funding from Baton Rouge or Washington isn't the only problem the city faces in the coming budget year. It's also looking at tens of millions of dollars in new expenses from two federal consent decrees, one for the New Orleans Police Department and the other for the Orleans Parish Prison.
Landrieu typically releases his proposed executive budget in October. The City Council holds budget hearings in early November. It has until Dec. 1 to amend and pass a budget, which in recent years has approached $900 million. That includes nearly $500 million in the general fund, the locally generated portion of the budget over which the city has direct control.
Live chat Friday
Friday at 12:30 p.m., City Council Vice President Stacy Head will join us for a live, text-based chat about the upcoming budget. We'll take questions from readers about the city's priorities and challenges in crafting a spending plan.
Live blog of Wednesday's public meeting