The Lens isn't the only watchdog in New Orleans.  New Orleans Inspector General Ed Quatrevaux is another, and he will be our next Newsmaker.  At our May 21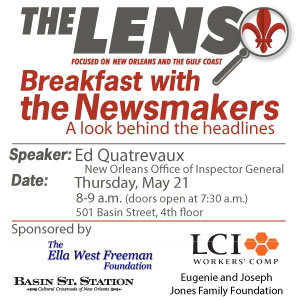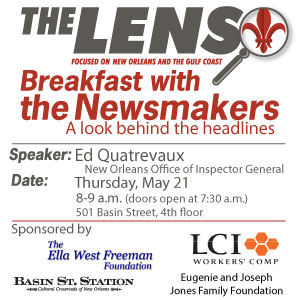 "Breakfast with the Newsmakers: A Look Behind the Headlines," he will be interviewed by Charles Maldonado, our government accountability reporter.  They will discuss the New Orleans Police Department Funding report, which was published recently by the Office of Inspector General.
We invite you to read the following related articles:
Event details
Date: Thursday, May 21
Time: 8 to 9 a.m. Doors open at 7:30 a.m.
Questions: Anne Mueller, amueller@TheLensNola.org
Location: Basin St. Station, 4th floor, 501 Basin St. at St. Louis Street
Parking: Available in the Basin St. Station parking lot adjacent to the facility. This map shows the location of the parking lot and access points.
The recorded event is available below.

The Lens Breakfast with the Newsmakers – Ed Quatrevaux, New Orleans Inspector General from Jason Berry on Vimeo.