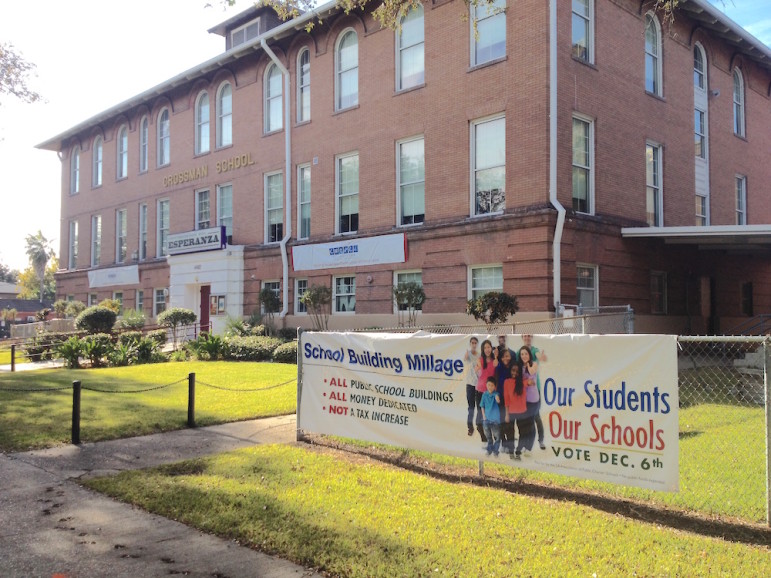 The Orleans Parish School Board and several charter schools have agreed to remove banners encouraging people to vote on a school-facility tax on the ballot in Saturday's election.
The decision came despite a delayed hearing on the matter, after attorneys met behind closed doors with a Civil District Court judge.
Attorney Willie Zanders, representing several community groups, filed a lawsuit against the School Board last month seeking the removal of the banners that ask people to vote on the tax and depict smiling children giving the thumbs-up sign.
He said the signage amounted to the illegal use of public facilities and money to promote a vote for the tax, which would set up a standing maintenance program for nearly all New Orleans public school. Schools can conduct educational campaigns about ballot initiatives, but they cannot advocate for or against a measure. The judge in the case last week said the intent of the signs appeared to encourage a vote for the tax.
Many of the signs were paid for by the Louisiana Association of Public Charter Schools, a private group. Zanders named that organization and Executive Director Caroline Roemer Shirley in the lawsuit, but Civil District Court Judge Tiffany Chase dismissed Shirley and her group from the suit. Last week, an attorney for the organization his clients did not have control over the buildings and hadn't hung up any signs.
On Wednesday, Zanders added several charter school operators to the suit after the School Board said it did not control the charter-occupied buildings, or what signs hung on them.
Those late additions, coupled with court holidays, led to several requests for delays being filed in court Monday which put off a scheduled hearing until Thursday.
However, after meeting with Chase in her chambers for about 20 minutes Monday morning, attorneys for the charter schools and School Board said they would be removing signs from the buildings.
School Board attorney Bill Aaron said banners would be removed at the School Board's six direct-run schools. Despite the fact that the School Board owns a majority of the buildings that charter schools occupy in New Orleans, they do not control those buildings.
Attorney Lee Reid was in court Monday representing seven charter school boards: New Orleans College Prep; Morris Jeff Community School; New Beginnings Schools Foundation; Firstline Schools, Inc.; KIPP New Orleans Schools; Advocates for Science and Math, and Advocates for Academic Excellence. He also represents the charter school association.
"We've consented to remove the banners," Reid said after the private meeting with the judge.
A banner that had previously hung on the Old Carrollton Courthouse, owned by the School Board, was no longer there Monday morning, though one at Esperanza Charter School was still visible Monday.
"We await a final hearing on Thursday to see if, in fact, all signs have been taken down," Zanders said.
Zanders said several of the signs many have violated state law that prohibits political signage at polling places.
"It is a misdemeanor to place a sign within 600 feet of a polling place," Zanders said.
Many local schools serve as polling places, but that matter is not addressed in this lawsuit.
The hearing was reset for Thursday at 9 a.m, though lawyers on both sides agreed the hearing would not be necessary if all signs were removed by then.