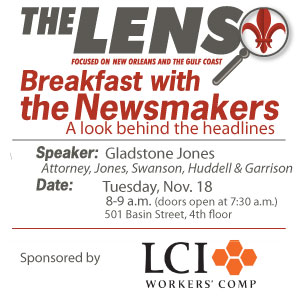 On Tuesday, Lens environmental reporter Bob Marshall will interview Gladstone Jones, the lead attorney in the lawsuit against the oil and gas companies for coastal damages. They will discuss a  recent key hearing in federal court and how that affects the next hearing Dec. 10.
Jones and Marshall will discuss his contract with the Southeast Louisiana Flood Protection Authority — East, how it differs from standard contracts, if at all, and why he took the lawsuit.
Marshall will ask him to explain the offers Jones has made to forego payments beyond his costs if the oil and gas industry comes to the table. And they'll also get into so-called "legacy law suits," which the Legislature has attempted to kill, and what that would mean to people who have suffered damage form oil and gas activities if it passes.
ARTICLES OF INTEREST
Lawyer for levee authority says battle over coastal loss lawsuit is just beginning
Barry musters support for wetlands lawsuit, but not with the right audience
The Most Ambitious Environmental Lawsuit Ever
Quin Hillyer: Why the wetlands lawsuit is pure poison
Tainted Legacy: Wealthy and powerful vs. big oil
EVENT DETAILS
Date: Tuesday, Nov. 18
Time: 8 to 9 a.m. (doors open at 7:30 a.m.)
RSVP: Anne Mueller, amueller@TheLensNola.org
Location: Basin St. Station, 4th floor, 501 Basin St. at St. Louis Street
Parking: Available in the Basin St. Station parking lot adjacent to the facility. This map shows the location of the parking lot and adjacent access points.
SPONSORS
Special thanks to our sponsors LCI Workers' Comp and Basin St. Station.
Breakfast with the Newsmakers is a monthly business-social event that aims to engage The Lens' audience with one another and with the people making news in and around New Orleans. Newsmakers events are open to the public.  They are free to Lens members, with a $10 suggested donation for non-members.