Want a front-row seat to one of New Orleans' favorite spectator sports? Join the staff of The Lens as we gather on Election Night for a nonpartisan watch party, and to see our one-of-a-kind precinct-by-precinct map of the city take shape as returns come in.
We'll be in the courtyard of The Rusty Nail, and our news technology team of Abe Handler and Thomas Thoren will be in the spotlight. Our city map is tied to the Secretary of State's database, so as soon as information from a batch of precincts are entered in Baton Rouge, they'll show up on our map. We'll be able to show you election results like you haven't seen them before.
We'll use this same map we used for a post-election analysis of turnout and margin of victory in March.
Here's our work-in-progress.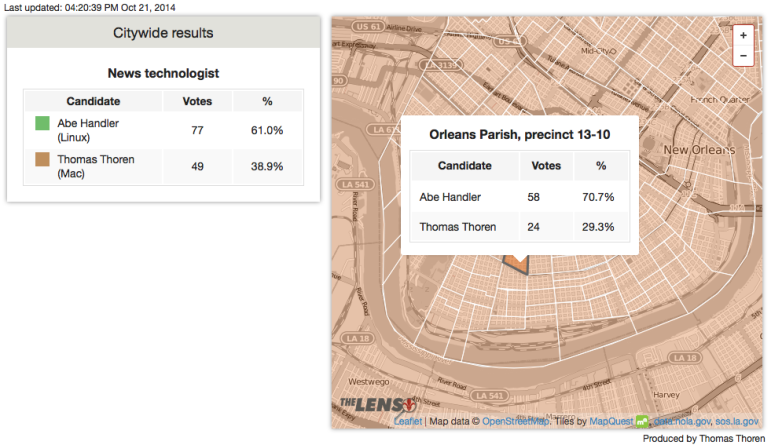 We'll be looking at all races, including those statewide, but we'll have a particular focus on New Orleans judicial elections. This party follows our recent Breakfast with the Newsmakers, featuring the head of Court Watch NOLA, and a part of our website that provides information on each judicial candidate in contested races.
Join Lens reporters and editors for a drink and to discuss the result as they roll in.
LIVE MAP WILL BE AVAILABLE TO VIEW NOV. 4 BEGINNING AT 8:00 p.m.
EVENT DETAILS
Date: Tuesday, Nov. 4
Time: 7:00 p.m.
Location: The Rusty Nail, 1100 Constance Street, New Orleans, LA 70130
Questions: Please contact Anne Mueller
Cash bar. Food will be available for purchase from La Cocinita.