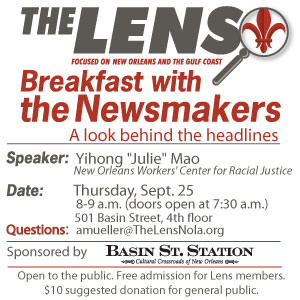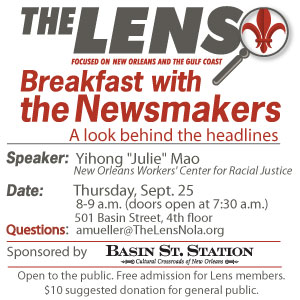 Thursday morning, Lens government accountability reporter Charles Maldonado will interview New Orleans Workers' Center for Racial Justice attorney Yihong "Julie" Mao at our monthly Breakfast with the Newsmakers event.
Among other things, they'll discuss allegations that the New Orleans Police Department is racially profiling Latinos and how that issue is related to federally mandated reforms at the Police Department. Joining Mao will be two members of the Congress of Day Laborers, as well as organizer Jolene Elberth.
We encourage you to read the following related articles:
NOPD accused of racially profiling Latinos, aiding federal immigration agents
New Orleans immigration court handling more than 1,200 cases of unaccompanied minors fleeing Central America
EVENT DETAILS
Date: Thursday, Sept. 25
Time: 8 to 9 a.m. (doors open at 7:30 a.m.)
RSVP: Anne Mueller, amueller@TheLensNola.org
Location: Basin St. Station, 4th floor, 501 Basin St. at St. Louis Street
Parking: Available in the Basin St. Station parking lot adjacent to the facility. This map shows the location of the parking lot and adjacent access points.  Click here for the parking pass.
VIDEO
A recording of the event can be seen here.