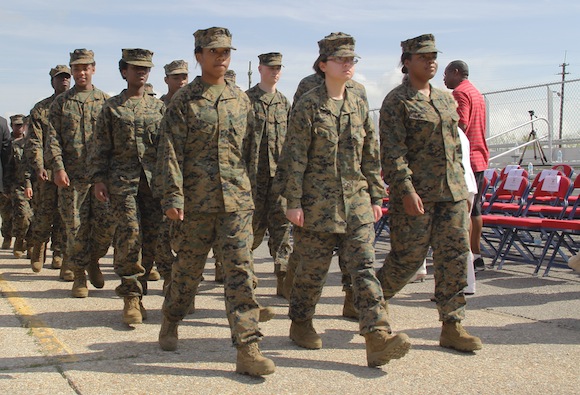 The New Orleans Military and Maritime Academy broke ground on its future home Monday, with U.S. Senator Mary Landrieu, D-La., on hand to deliver the keynote address.
Local politicians and business leaders spoke while, behind them, construction took place.  Landrieu then gave a ceremonial start to the work by cuing workers to  pour cement into a small wooden frame — and joking with them when cement  spilled outside the frame.
Landrieu told the crowd that, when she toured Iraq and Afghanistan, soldiers were often most concerned that someone was looking out for their spouses and children back home.  She said that the charter academy helped fulfill that obligation by giving military parents the option to educate their children within a military culture.   She praised the concept of school choice and noted that the academy is  one of a growing number of options in New Orleans.
"This wouldn't be possible without the charter school law, which allows money that flows through the Minimum Foundation Formula to go to charter schools," she said.  Landrieu praised New Orleans as an important nexus of the school reform movement and said that the makeover of the city's public school system was about 80 percent complete.
"It might sound like posturing," she said, "but there are a lot of schools being built."
The academy's new building is being constructed next to a structure now under  renovation.  The campus is designed for an enrollment of 600-plus students, at a maximum of 25 per classroom.  The developer for the project is HRI Properties, with the Woodward firm in charge of construction.  Officials estimate that the project will be complete in 12 months.
Responding to reporters after the event, Col. Bill Davis, the academy's comandant,  said the cost of the new building is projected at $17 million, with $14 million of that going to construction and another $1.2 million to lease the land from the U.S. Navy for 75 years.
The rest of the budget for building is absorbed by interest on building loans and other expenses.  Davis said the loans were necessary to complete the construction, since many funding sources reimburse funds only after the fact.
City Councilmember Jackie Clarkson described the Federal City project as the continuation of a vision of New Orleans as one of the nation's primary military support cities. She commended Commandant Davis for his leadership, and for being a driving force in the school's creation.  Councilmember Kristin Gisleson Palmer spoke about the importance of private-public funding partnerships to create developments such as the academy.
"The Marine Corps is not about equipment, it's about people.  What is important is that those people are Americans that choose to serve.  They are our next generation, and they are here among us," said Lt. Gen. Steven Hummer, Commander of the Marine Forces Reserve and Marine Forces North.
The school's color guard and choir performed for the event.