The paved front yard of the Mid-City house at 4117 Orleans Ave. seems to have struck a chord with adjacent neighbors, a sour one. At a recent meeting of the city's Board of Zoning Adjustment, speaker after speaker rose in opposition to the property's 100-percent front yard paving job.
Nor did they cotton to the homeowner Angela Larrieu's suggestion that she remedy the problem by setting down Astroturf-like fake grass on the 40 percent of the lawn that, by law, is meant to be concrete-free.
The Orleans Avenue house is one of several lawn pavings that have caught our attention here at Squandered Heritage. Unsightliness is one problem. The other is that a flood-prone city like New Orleans needs to be able to absorb as much rainwater as possible, something concrete is not good at.
Addressing the Board of Zoning adjustment, neighbor Monica Munoz had a word for Larrieu's landscaping: "uglificent." She said her neighbors used to call 4117 the "gravel pit," because, prior to the concrete going down, the yard was covered in loose gravel. "Uglificent" appears to combine an esthetic reaction with awe at the sheer brazenness of the paving job.
Another neighbor, Christy Jones, asked the board to mandate that Larrieu submit a remediation plan for bringing the yard back and, once approved, comply with it.
According to Larrieu, she never saw the plans for her house when her contractor submitted them to the New Orleans City Planning Commission and was unaware that paving was unacceptable until she was cited recently by the city.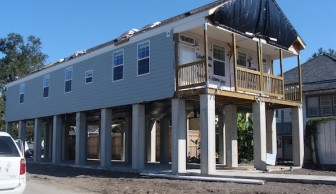 Larrieu said she wasn't enamored of concrete; she just needs the parking, at which point she pitched the board on the fake turf idea.
Leslie Alley, a planner with the city, said maybe Larrieu could try parking in the backyard, which neighbors said is also 100-percent paved. Paved backyards may not be of much interest to the local garden club, but they are not illegal. Larrieu demurred, however, saying she didn't want to use hers for parking.
The board voted against the property owner's request to override code and retain the paving. She was advised to work with the City Planning Commission to jackhammer enough of the concrete to rediscover the turf that lies beneath it.