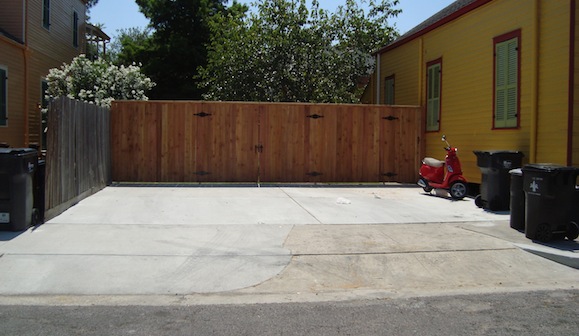 Wedberg bought the lot next door in 2008 and paved the front portion of it last spring. Photo by Karen Gadbois
Update, Feb. 4, 2:30 p.m.: The City Council's Governmental Affairs Committee has recommended that a slate of nominees, including Wedberg, be approved by the full council, which could happen as soon as Thursday. A comment from the mayor's office has been added to this story as well.
Mayor Mitch Landrieu's most recent nominee to the City Planning Commission seems to have planning problems of his own.
While the city's zoning code limits paved parking spaces or driveways to 40 percent of a residential property, nominee Kyle Wedberg last spring paved the entire street frontage of a lot adjacent to his home and did so without securing permits for the curb cuts as is required by law. His appointment to the Planning Commission is up for review today by the City Council's Governmental Affairs Committee.
Paving over outsize portions of city residential lots has emerged as a cause of concern since Katrina both for aesthetic reasons and because they degrade the ability of the cityscape to absorb rainwater and storm surge, increasing the risk of flooding.
Head of the city's celebrated high school for creative youth, the New Orleans Center for Creative Arts, Wedberg says his contractor is to blame for the two-car concrete parking pad that went in last spring alongside his Bywater home.
Wedberg concedes that the legal responsibility is his but said he believed his contractor when he reassured him that the paperwork was all in order.
According to Hayne Rainey, a city communications manager, no permits for curb cuts have been issued for Wedberg's Bartholomew Street address or any others on his block.
Wedberg said he purchased the adjacent property in 2008 to accommodate the needs of his growing family.
He is now in the process of creating one lot of record, Wedberg said, and when that process is finished plans to "make a full effort to bring the property in to compliance" in whatever way the city requires.
As yet, Wedberg has not filed an application with the city, he said.
Wedberg said his willingess to serve on the prestigious Planning Commission reflects his concern about gentrification and parking problems in the Bywater neighborhood. Landrieu spokesman Ryan Berni said in an email that Wedberg was well qualified for the position, pointing out that Wedberg was a senior budget analyst for the City of Chicago and served as chief administrative officer for the Recovery School District.
Wedberg was nominated to succeed Lou Volz, a longtime commission member who had fallen out of favor with the Landrieu administration and was abruptly relieved of duty last month.
Individual City Council members make recommendations to the mayor for such nominations, then the mayor forwards his choice to the council for ratification. At today's meeting, Kristin Gisleson Palmer said she recommended Wedberg.
Planning Commission members serve without pay. They approve or reject development and demolition proposals, usually based on the recommendation of the commission's paid staff. Their opinion is then passed on to the City Council, which can affirm or override it.
In addition to Wedberg's appointment, the Governmental Affairs Committee will review nine other board and committee nominations at its meeting today.