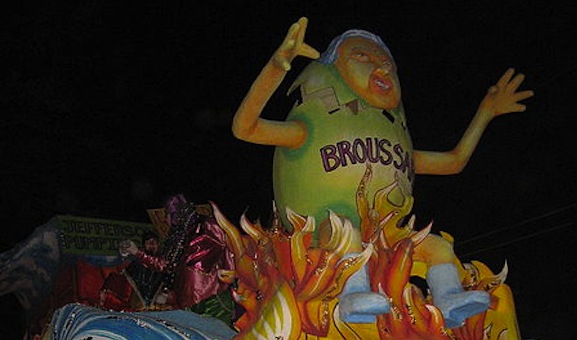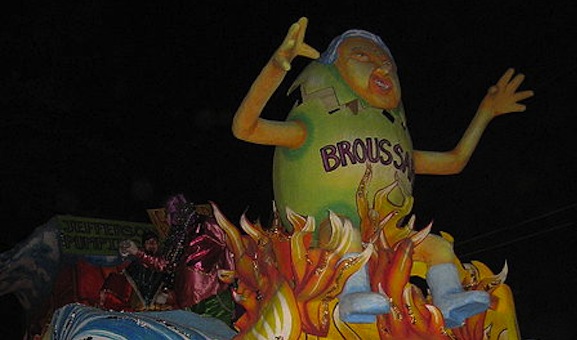 In 2006—before the parish president's great fall—a Carnival float depicted Broussard as Humpty Dumpty. Photo: Photo: Infrogmation (Creative Commons)
"I only pray in public," said my friend Clint, with a sly wink, before we grilled pork steaks and watched the Saints fall to the Packers.
The quip tickled me. It also brought to mind a recent column by Gambit's Clancy Dubos which described plans by former Jefferson Parish President Aaron Broussard to form a "prison ministry in anticipation of his conviction on federal criminal charges."
Oh, brother, I thought to myself. Haven't the imprisoned suffered enough? Must they endure Bible lectures from a hypocrite like Broussard, too?  It seems almost cruel and unusual.
As it turned out, Dubos wrote the piece just before Broussard pleaded guilty to "cooking up a sham job for his girlfriend and outright stealing $28,158, as well as conspiring to take $66,000 in bribes from a parish contractor," according to the Times-Picayune.
Now, I don't think Broussard "only prays in public," like the showy Pharisees of yore. These days, such displays are considered bad form, and Broussard is more clever than that. Instead of self-promoting his piety, he makes a big deal about his religiosity to his friends and associates, and they dutifully spread the word to reporters and others about the disgraced one's faithful soul.
Take this T-P story from April 2010:
In his abrupt retirement from politics, Broussard has turned to his Christian faith for support, said his attorney, Mike Ellis. Almost daily news reports—not to mention allegations and rumors that continue to bob and swoop through the community—have not made life easy.

"I can generally say he wakes up in the morning; he says his prayers. He's very religious and takes one day at a time," Ellis said. "He reads the Times-Picayune with great trepidation to see what's been written about him. It's been rough."
Poor Broussard. So Christian, yet so persecuted. The story continues:
Unfortunately, a lot of the stuff he has done won't be remembered as much as the stuff he's been accused of doing," [former Kenner Council President Nick] Baroni said.
That syrupy sentiment comes from the same Nick Baroni who pleaded guilty to 13 counts of defrauding the U.S. Navy (before and after 9/11) with bogus consulting work. Baroni and Broussard are longtime friends, and have taken turns testifying to each other's character, even though they're now both confessed crooks.
Baroni and Broussard are two peas in a pod, according to my friend David Bellinger, who is Baroni's first cousin. In recent years Bellinger has written fearless and scathing online commentaries about these compromised Kennerites. He's said that Baroni and Broussard made a pilgrimage to Medjugorje, the holy site in the former Yugoslavia where the Blessed Virgin Mary Mother supposedly sends out regular messages to the faithful. After this faithful expediton, according to Bellinger, Baroni expressed a desire to become a "mafia godfather."
Sacre bleu!
Among his other insights, Bellinger alleges that a family member close to Baroni claimed that
[When] Nick Baroni was serving as the president of the Kenner Council, while Aaron Broussard served as the mayor of Kenner, Nick Baroni had a "secret" ownership interest in the Treasure Chest Casino!  Upon the sale of the casino, based on what I was told by a very, very close family relative…  Nick Baroni made a profit in excess of $1,000,000!
Bellinger once dined with Broussard and Baroni. Between forkfuls, all they could talk about was Jesus. They expressed serious concern about the fate of Bellinger's liberal soul. They presented him with rosary beads from Medjugorje and said they would pray for him. However, years later, when Bellinger was writing columns about Baroni and Broussard's misdeeds for NewOrleans.com (Broussard was by then parish president), he called  Broussard's office for comment about an apparent "sweetheart giveaway" to a business owned by Baroni's sons. All of a sudden, Bellinger's columns were no longer accepted for publication at NewOrleans.com. Bellinger suspects that someone from Broussard's office made an enraged phonecall and put the kibosh on his media outlet.
It wouldn't be the first time. T-P columnist Jarvis DeBerry recounted a similar incident demonstrating Broussard's thin-skinned intimidation tactics:
As Hurricane Dennis was hitting Cuba, a panicky Broussard told Jefferson Parish residents to run for the hills—ahead of everybody else in the metro area. Of course, Dennis gave Louisiana no trouble, but even if it had, a regional agreement that had been hammered out the previous year with Broussard's participation called for coastal residents to leave first. When that was pointed out—gently by the editorial page and not so gently by columnist James Gill—Broussard demanded a face-to-face meeting during which he lit into us.
I would give anything to have been in the room during this harangue and to have piped up from the corner: "Doesn't the Bible counsel us to turn the other cheek?"
Broussard enjoys it when his friends tell the press about his religiosity, but apparently can't handle (quite valid) criticisms about his malfeasance in office. Instead of taking it in stride, he returns fire and tries to intimidate, like a cranky old dragon.
And now, apparently, Broussard is intent on spreading the Good News to other inmates as soon as he walks into the federal pen. How about bagging the sanctimoniousness for a few years—or decades—and first doing some of that praying and confessing in private?
Back in February, I couldn't believe the revelations about Broussard's ex-wife, Karen Parker. While serving as a public employee during the Broussard administration, she would go play video poker at daiquiri shops during work hours. And even after she was caught, she had the gall to ask for overtime pay!
At the time I suggested that Parker's picture belonged beside the dictionary definition of  chutzpah.
Actually, though, her ex-husband takes the cake. With his criminality, combined with his high-profile religiosity—not to mention his gasbag ego and habitual bullying of his critics—Broussard's chutzpah is in a class by itself.