Our mission
The mission of The Lens is to engage and empower the residents of New Orleans and the Gulf Coast by providing the information and analysis necessary to advocate for more accountable and just governance.
With an experienced staff, The Lens merges the accuracy, fairness and thoroughness of traditional journalism with the speed, urgency and interactivity of online media. This hybrid model is well-suited to New Orleans, a city where residents count media watchdogs as allies in the struggle to rebuild a better community in the face of limited resources.
A community service
The Lens has created a Speakers Bureau as a community service to bridge the gap between our readers and our coverage, explaining how and why we report the news you get.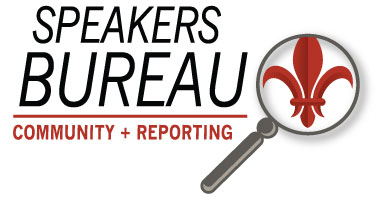 Our reporters are well versed on many topics and are available to speak to your group about myriad issues confronting New Orleans, as well as coastal land-loss and restoration along Louisiana's coast. Our topic areas include politics, land use, schools, criminal justice, the environment and city government.
Veteran journalists along with a new breed, news technologists, work together to create a fresh model for reporting and consuming the news. If you'd like some insight into The Lens and how we work to bring you in-depth news native to the web, consider inviting us to speak at your next event.
Our staff members are available to talk to professional, community, academic and civic organizations. To request a speaker, please email Karen Gadbois. We encourage you to submit your request at least two weeks in advance.
Your contribution
As a reader-supported organization, we depend on your contributions. For each speaking engagement, we ask that you make a $150 donation, which directly supports the work of the reporters. However, this rate is flexible depending on your organizational budget.
Supported by
Investigative News Network as the administrator of the INNovation Fund on behalf of the John S. and James L. Knight Foundation