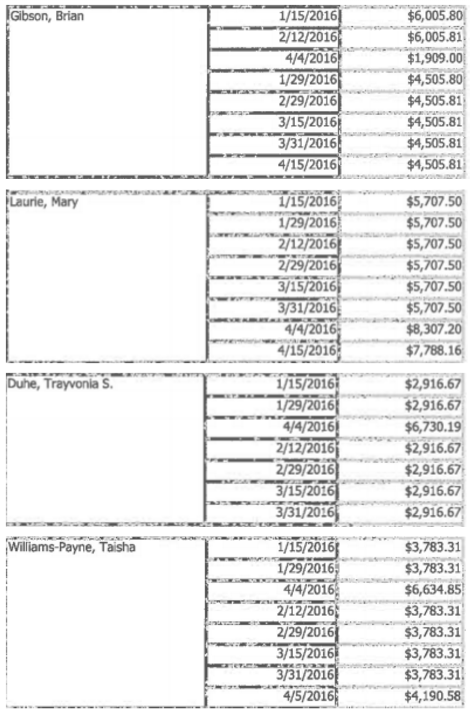 Three of the four Algiers Charter School Association administrators placed on paid leave amid a cheating investigation at Landry-Walker High School are no longer on the network's payroll, records show.
Network officials did not return phone calls or emails, but they provided payroll records Wednesday in response to a Lens request made under state Public Records Law.
The three had drawn larger checks in recent weeks, according to payroll records, but the names of longtime Landry-Walker Principal Mary Laurie, teacher and former test coordinator Trayvonia Duhe and Assistant Principal Taisha Williams-Payne did not appear on the April 29 payroll.
The four were suspended with pay mid-February amid a cheating probe and state Inspector General's investigation into test scores, made public by nola.com.
Though many other network employees have some variation in paychecks during the Jan. 15 through April 29 time period examined by The Lens, Laurie, Duhe and Williams-Payne collected  significantly more in recent weeks.
Laurie earned about $5,700 in the typical pay period. On her last two paychecks she received just over $8,300 and $7,700 respectively.
Duhe's normal payouts were $2,916 every two weeks, according to the payroll records. But on April 4, she was paid $6,730.19 — more than double her normal amount.
Williams-Payne typically was paid $3,783. But on April 4 and April 5 she received $6,634 and $4,190, respectively.
Gibson on the other hand, appears to have taken a pay cut when he was placed on leave. He has served as head basketball coach in prior years and the cut could be reflective of the networking dropping his coaching stipend.
Gibson's April 29 paycheck was the same amount he's received since being placed on leave.
The Algier Charter Network has been unwilling to comment on Laurie's employment, stating the matter was a "personnel issue."
The person answering a call to Laurie's home today hung up on The Lens. The other three could not be reached for comment.