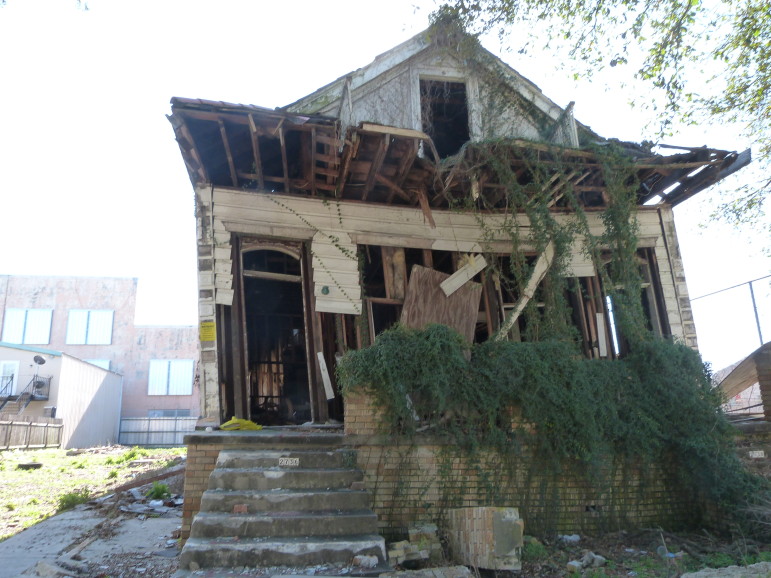 The city keeps track of each victory in the war against blight, listing each address on its website. But when we randomly checked those properties, we found trash, high weeds and houses that had supposedly been demolished. A quarter likely violate city code.
---
Of the 300 properties we surveyed, about one in six were eyesores — high weeds, damaged structures or piles of debris and trash.

Many more properties where houses had been razed, such 2312 Conti St., had become trash-strewn and overgrown. Based on similar, outstanding cases, they're likely in violation of city code.

Of the city's list of 128 demolished properties, houses were still standing on four: 2736 Banks St., 835 Belleville St. 4532 Citrus Dr. and 219 Maumus Ave. Three were later removed from the city's list, but the one on Maumus was still on it as of this month — two years after it had supposedly been demolished.

Several vacant homes were unsecured, creating potential hazards for children or haunts for drug users and criminals.
Checking up on city records
Demolished

Repaired and judged in compliance with city codes

Seized and sold at public auction by the Orleans Parish Sheriff's Office

Sold by the New Orleans Redevelopment Authority
Repeat Offenders
Some neighborhoods languish while others flourish
"Certainly the classic example, as everyone is aware, is the Lower 9th Ward," said Yaukey, who did the blight survey that the Landrieu administration cited when it declared that it had reached the 10,000 property mark.
The key to addressing blight: more residents
City has more options for enforcement
This year, the legislature passed a law, signed by Gov. Bobby Jindal, that allows the city to clear privately owned vacant lots and charge the owners.
Another bill, which Jindal signed Monday, allows the city to treat litter and sanitation offenses as it does other blight allegations.* House Bill 940 allows the city to issue civil fines, handled in an administrative hearing. Before, they were handled by Municipal Court, which handles state misdemeanors and violations of New Orleans criminal codes.
Residents wait