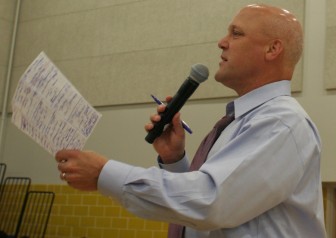 New Orleans Mayor Mitch Landrieu will present his fourth annual city budget before the City Council on Tuesday at 10 a.m. The Lens will live-blog the presentation from the council chambers.
Revenue for the 2014 general fund, comprised of locally collected taxes and fees, is projected to be $504 million, according to an analysis by City Economist James Husserl released last week. Revenue for the overall operating budget, which includes state and federal funds earmarked for specific programs, is projected to be $837 million.
The general fund revenue figure is $8 million more than the $496 million amended 2013 budget and $13 million more than the original 2013 budget passed by the City Council last year. Actual 2013 revenues are expected to reach about $494 million by the end of the year.
According to Husserl's analysis, the modest 2 percent bump for next year will come mostly from a projected 3 percent rise in property and sales tax collections, totaling $7.3 million.
The city also expects an additional $1.3 million in sanitation fees from the Sewerage & Water Board, resulting from a soon-to-be introduced ordinance allowing the utility to shut off water service for customers who fail to pay the $24 monthly trash fee.
All that additional revenue, however, probably won't cover increased costs, including tens of millions for federal consent decrees over the New Orleans Police Department and Orleans Parish Prison and sharply rising workers' compensation claims. According to media reports and public statements from city officials, departments are facing a 15 percent cut.
Also Tuesday, Landrieu will present his 2014 capital budget for infrastructure improvements. In late September, the City Planning Commission approved the Landrieu administration's $1 billion-plus draft Capital Improvement Plan for 2014-2018.
Next year's requested capital expenditures total $238 million, which would come from city bonds, rebuilding grants from the Federal Emergency Management Agency, and leases and fees brought in by city agencies.
The Capital Improvement Plan includes $20 million in state and federal funds for the proposed development of Charity Hospital as a "civic center" complex that would house City Hall and Orleans Parish Civil District Court.
The City Council is scheduled to hold hearings on the budget from Oct. 23 to Nov. 21. The council is required to pass a budget by Dec. 1.
Budget presentation
Live blog