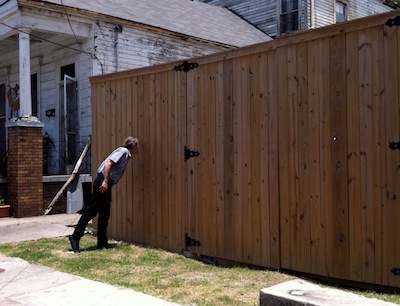 What do a 10-foot fence in Bywater and a paved front yard in the Garden District have in common?
Both appear on the June 7 docket for an administrative adjudication hearing in the city's one-stop court for code violations — which has not been in session for more than a year.
As the city has concentrated on blight hearings, other code violations — such as illegal short-term rentals, excessive front-yard paving and unpermitted construction — have gotten short shrift, with hearings slowing from a trickle to a standstill.
In 2011 the majority of hearings concerned the post-Katrina FEMA trailers that still dotted the city. In spite of multiple warnings from city and federal agencies, people were still using the trailers in violation of city code.
In 2012, the city held approximately 14 hearings, with a number of the rulings delayed, according to records provided to The Lens.
None of the 11 properties scheduled to be reviewed at the Friday meeting appear on previous docket. A request to see the session's full agenda was not fulfilled.
The meeting is scheduled to begin at 9 a.m. on the seventh floor of City Hall.