As Mayor Mitch Landrieu cut the ribbon at a refurbished Harrell Stadium, he turned to a group of children at the front of the crowd. "Who wants to learn to swim?" he asked.
Little hands shot up. Landrieu nodded at them. "This is your year," he said.
The mayor's easy patter with the children at Harrell last month and at the newly refurbished John P. Lyons Memorial Center, where he officially marked the beginning of the city's summer-recreation program Monday morning, belies some tough decisions the recreation commission made earlier this year to deal with a cut in federal grants.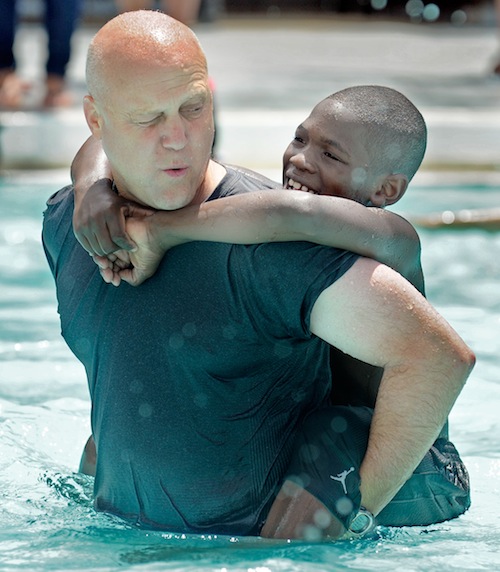 The city's swimming program lost $700,000 this year in Community Development Block Grants from the U.S. Department of Housing and Urban Development, part of nationwide cuts in such grants.
The lost funding caused youth advocates to be concerned that the New Orleans Recreation Development Commission would have to slash services. And it has caused some to wonder if the creation of the public-private commission in 2010 was enough to protect youth recreation in the city.
But because the commission made strategic cuts and secured additional private money, officials say they'll be able to serve about the same number of kids as they did last year.
The biggest change is that the pool season will be shortened to eight weeks — June and July — rather than the typical 10 to 12 weeks. Recreation commission head Vic Richard said he made the decision after analyzing two years of data and finding that "the majority of the pools were empty" in the second half of August now that school starts earlier.
The commission saved about $100,000 by cutting non-NORD aquatics programs and renegotiating its contract with the American Red Cross, which provides swimming instructors. And a Boh Brothers foundation kicked in $90,000 specifically for aquatics.
Commission staff thought they'd discovered a way to cut most of the aquatics program's biggest expenses: round-the-clock security guards at each of the city's 13 pools, which are required for insurance reasons once the pools are filled.
Other cities satisfy that requirement with a roving security guard, which would save about $150,000 in New Orleans. However, last week as the pools were filled, there were seven incidents of children scaling their high fences while the guard was elsewhere, according to Mary Jo Webster, chief operating officer of the New Orleans Recreational Development Commission.
Administrators decided to return to the old plan on Friday. They haven't figured out how to pay for the reinstated security details.
More money, more programs than a few years ago
The commission is better off than it was even three years ago. The bulk of its budget, which comes from the city's general fund and federal grants, is $9.5 million this year. That's down from $10.2 million last year, but it's nearly twice 2010's budget of less than $5 million.

Programming — day camps, music lessons and other activities — has seen even more marked increases. When Landrieu took office three years ago, only four pools were open, and four full-time day camps had room for about 700 grade-school children.
Now 13 pools are open, and 35 youth camps have slots for 3,665 kids ages 4 to 12. In addition, a teen program, launched a few years ago, will serve 1,000 older children in seven camps, and an expanded youth summer-employment program has six programs with room for 1,600 older youth.
Day camp slots have filled up more quickly than ever at the newly opened Treme Community Center. Longtime center director Jerome Smith said that, in an affirmation of the link between peaceful neighborhoods and high-quality youth programming, he received a burst of calls from parents right after the Mother's Day shooting.
Katrina recovery continues
Treme Center was one of several shuttered facilities and fields that the current administration inherited. Most had been untouched since Hurricane Katrina. Almost all parks, playgrounds and greenspace were off-limits to children because they were being used for FEMA trailers.
In recent months there have been more ground-breakings and ribbon-cuttings. Treme Community Center recently opened, just in time for summer, as did the Lyons Center on Tchoupitoulas Street at Louisiana Avenue, the site of Monday's news conference.
Later this month, the St. Roch Playground will also relaunch its athletic programs on a new field. Two more community centers with pools are under construction, at the Andrew "Pete" Sanchez community center in the Lower 9th Ward and at the Stallings St. Claude Center in the Bywater neighborhood. An additional pair of pools are also in the works, at the former Rosenwald Center in Central City and in Gert Town.
This burst of construction now brings city-sponsored recreational opportunities to some children who made it all the way through elementary school without a place nearby to swim, play organized sports, learn piano or pottery-making. "There are kids in this neighborhood who have no concept of what NORD is," said Reggie Lawson, who coordinates the Faubourg St. Roch Improvement Association, the umbrella for the playground's booster club.
But more open facilities also means more light bulbs to change, more equipment to maintain, more staff to keep children busy and happy all year round. "We need money, we need money, we need money," Richard said. "We need a solid, sustainable budget."
Financial challenges not completely over
In many ways, New Orleans voters thought they were putting recreation programming on solid footing when, in 2010, they overwhelmingly passed a City Charter amendment that replaced the New Orleans Recreation Department with the New Orleans Recreation Development Commission. The new, public-private entity would be able to raise private donations in addition to city funds. A companion proposal to raise property taxes to finance the new commission's programs didn't make it to the ballot.
Even then, the uncertain funding concerned some officials like Councilwoman Cynthia Hedge-Morrell. "Just reorganizing NORD is not going to solve the problem," she said just before the 2010 vote. "I'm 100 percent behind this as long as we adequately fund it."
Soon afterward, the City Council and the mayor doubled the recreation budget, using money from city coffers and federal grants, both of which have continued to finance almost all of the commission's work. The foundation has contributed $695,127 so far this year.
Despite the cut in federal funds, "there is no discussion of a millage [increase] at this time," said Landrieu administration spokesman Ryan Berni. He said the commission would first turn to other underutilized revenue sources, such as rental and usage fees and private donations.
Last year the New Orleans Recreation Development Foundation raised $87,000 in rental fees, but NORDC administrators expect that to rise soon, once they set up a more affordable fee structure to rent a park shelter or a room in a recreation facility, Webster said. Currently, many rental fees are set at prohibitively high rates, which has spurred council members to routinely waive rental fees for constituents, she said.
Earlier this year, upon the foundation's request, the City Council created two new funds for NORDC's collections, separating its revenue from the city's. Now, all private donations and rental fees go directly to the foundation. Proponents said that was crucial for donors, who wanted to be confident that their money would goes directly to youth recreation.