News of improved test scores proved bittersweet as the board at Crocker Arts and Technology prepared for the school's final day.
Fourth-grade standardized test scores showed a nine percent improvement over last year in the number of students scoring basic or above, Principal Charmaine Robertson said.
"I think because of everything we're facing, students and parents were more focused," Robertson said at Saturday's meeting.
In December, the Board of Elementary and Secondary Education denied the failing school a charter renewal and leadership has since been transitioning to New Orleans College Prep.
Opened in August 2008, Crocker initially operated out of trailers on Pratt Drive in Gentilly. However, board members recalled that the idea for the school's founding began in 2006.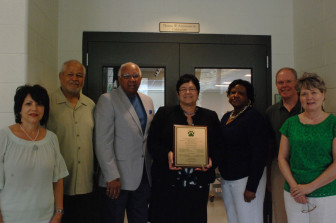 "A group formed out of the Historic Second Baptist Church two blocks from here," said founding board chair Grisela Jackson.
Students were being tutored at the church when Jackson first had the thought to form the school.
The group began meeting at Robertson's home, and would frequently travel to Baton Rouge for meetings at the home of board member John Jones.
Robertson said she remembers growing up in the 1960's two blocks away from the school at 2501 Marengo St., where her mother was a teacher. The current building, which opened in 2012, is the location of the original Lawrence D. Crocker Elementary School.
After a year in operation, Crocker moved to the former Free School of New Orleans building on Camp Street, and Robertson said she vividly recalls a harrowing phone call that came only four months after moving into the school's new home.
"At 6 o'clock on a Thursday evening in December 2009 I got a call saying we couldn't open the school the next day because the building had been deemed unfit," Robertson said. "I was calling parents until 11 o'clock that night."
Then serving pre-kindergarten through second grade, Crocker's next task was fitting the entire school into one modular home.
After two weeks in the tight quarters, the Crocker Cats found their longest running location in the historic McDonogh 7 building at 1111 Milan St., where they stayed for two years.
With construction still underway, Crocker, now serving grades pre-K through fifth, along with Encore Academy, moved into the current space at 2501 Marengo St. in August 2012.
The re-named Crocker College Prep was scheduled to close its doors Friday after a half-day.
In one of its final acts as a board, the Advocates for the Arts and Technology in New Orleans held a ceremony following Saturday's meeting dedicating public spaces at the school to three past board members and one former employee of the Recovery School District, all now deceased.
The gymnasium, library, black box theater and cafeteria were named in honor of the following, Alfred Saulny II, founding board member, Glenda Sawyer, board treasurer 2006 to 2008, Anthony Correro III, board member, and Thomas Arceneaux Sr., RSD project manager and director of building commissioning and energy management.
Speaking about Mr. Arceneaux, Chair Jackson said, "After Katrina, he left his comfortable home and big-time job to move his family back here where he was from, and went to work bringing our schools back."
Four of the seven current board members were a part of the founding group, and Jackson had special words for one in particular — Jones, her high school history teacher.
"I'm so glad that 32 years after we said goodbye we're still together," she said. "Who would've thought?"
The final board meeting of the Advocacy for the Arts and Technology in New Orleans is scheduled for June 22 at 11 a.m.
Present during Saturday's meeting were Mary Ellen Alexander, Stephen Boyard, Grisela Jackson, John Jones, Sean Rafferty, Simonne Robinson, along with Principal Charmaine Robertson and CPA Brendell Deamer.