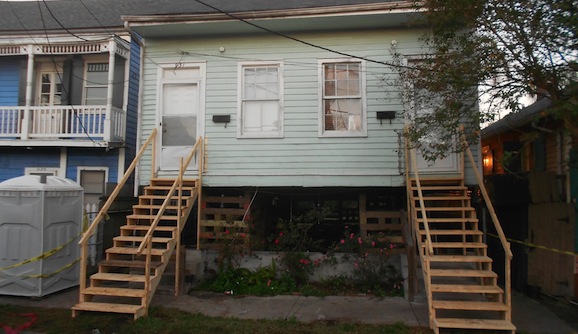 What goes up must go out. Steps extend out over the sidewalk as a Treme cottage gets elevated. Photo by Karen Gadbois
As Squandered Heritage frequently documents, people frequently come to Board of Zoning Adjustment hearings asking for "after the fact" waivers for unpermitted work they've already completed—lawns paved to make parking pads, for example.
A lot of those requests involve properties where the house has recently been raised, typically small ranch houses in Gentilly or eastern New Orleans with relatively ample front yards. When the garage is attached, as it often is, it gets elevated along with the rest of the structure, and converted to living space. (Yes, it's hard to park in an elevated garage!) The family car gets evicted to the front yard, and may obstruct the sidewalk. Hence the request for a waiver, to turn more of the lawn into a parking pad.
Elevating your home in a dense historic neighborhood is a trickier proposition because what goes up must also go out.
In mid-December a reader sent us the photo above. The house is on North Prieur Street in the Treme neighborhood.
My first thought: surely this is a work in progress, not a permanent solution. City communications manager Tyler Gamble assured me that was so. The house had all the proper permits. The stairs spanning the entire width of the sidewalk were just a temporary obstruction.
Thanks to the wonders of Google Maps you can see what the house looked like before it was elevated.
Last week the same reader mentioned that the house was still in limbo, but now with a heap of cinderblock as well as a Port-O-Let obstructing the sidewalk.
Another request for clarification was made and again  Gamble came through with an update.
It seems the owners are relocating the water lines and, according to Gamble, "The Department [of Safety and Permits] is giving the property owners time to come into compliance."
But the city may run out of patience, Gamble said: "If the conditions remain the same upon the next inspection, with no action taken by the property owners, the department will send a formal violation letter and begin taking steps to bring the property through the administrative hearing process to ultimately secure compliance."
Stay tuned.