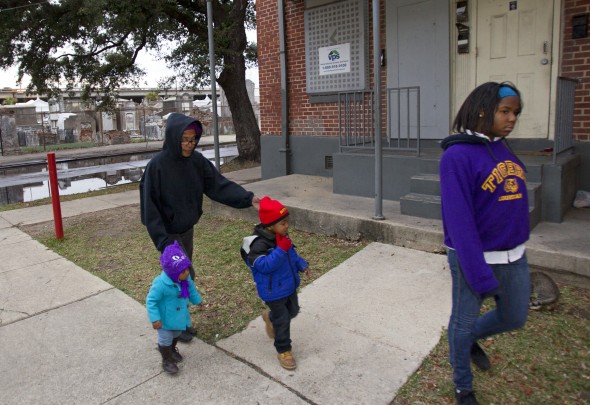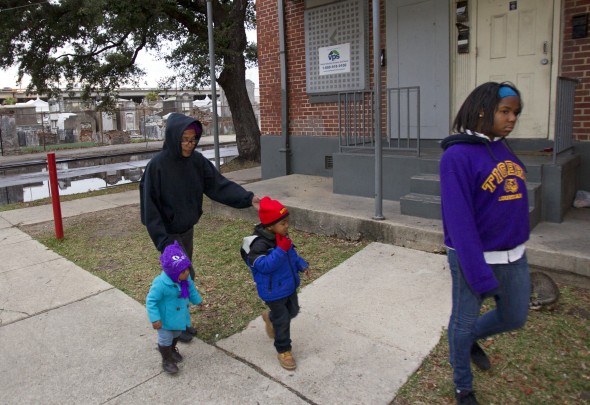 Charmaine Williams, second from left, goes for a walk with her grandchildren Keah Williams, 15 months, left, and Richard 'Ricky' Farrell III, 3; and daughter, SaYann Williams, 16, right, in the Iberville public housing development. They can see St. Louis Cemetery No. 2, in the background, from their front stoop. Archaeologists have confirmed that part of the housing complex sits on an old cemetery, likely once part of St. Louis No. 1. Advocate staff photo by Scott Threlkeld.
Archaeologists working on the grounds of the Iberville public housing development have found caskets and human bones, laid to rest by families a century or more ago.
The Housing Authority of New Orleans and its partner, the City of New Orleans, had planned to begin demolition this fall in anticipation of a massive overhaul that will redo the 10-block complex and create nearly 2,500 mixed-income apartments in the surrounding 300-block area. The estimated $589 million redevelopment of what is called the "Iberville-Treme" district was kicked off in August 2011 by a federal Choice Neighborhoods grant of $30.5 million.
HANO has had to rejigger demolition and construction plans to conform with state law that requires allowing the dead to stay buried. A federal law requires archaeological study of historic sites, cemeteries included, before they can be redeveloped.
HANO administrative receiver David Gilmore estimates that the project is about six months behind schedule, but the graveyards are responsible for only a few months of the delay. Advised last spring that there likely were remains in the area, Gilmore approved an agreement with Earth Search Inc. archaeologist Jill-Karen Yakubik, who "dug and dug and dug and dug everywhere," to be sure her research was complete, he said.
That a cemetery lies beneath a part of the complex, just blocks away from the French Quarter, comes as no surprise to many residents of the 821-unit Iberville, the last of the city's big public housing complexes to be redeveloped in a city that once had eight sprawling brick complexes and nearly 14,000 public-housing apartments. (In WWNO's companion story, residents talk about what it's like to live near the graveyards.)
Resident Charmaine Williams remembers being told about the graves as a child, she said as she and her daughters sat on their front stoop in the Bienville Court, a part of the development that commands a view of the tombs of St. Louis No. 2 Cemetery, the city's second-oldest necropolis.
"This graveyard tells a lot of stories," Williams said.
Her teenage daughter Sayann's education has included at least one lesson about ghosts, she said. A neighborhood teacher instructed her and her classmates that if any of them woke suddenly and the clock read 3:15 a.m., they shouldn't get up, because they had been shaken awake by an evil hand. That exact time on the clock – not 3:14 or 3:16, but 3:15 – is known as "the devil's time," the teacher said, and is associated with supernatural stirrings.
Living so near to all these tombs, a person can't escape tales of spirits, Williams said. A friend of hers watched as a large pack of dogs ran through the cemetery gates, then vanished into thin air. "It was late at night — maybe spirits wandering in another form," said Williams, who views the neighborhood spirits as a benevolent, protective force.
A neighbor from Conti Street, who only wanted to be identified as Ms. Patricia, said that when she and her mother first moved to the Iberville a quarter-century ago, she was required to meet her mother as she came home from her restaurant job and escort her past the St. Louis Cemetery No. 2.
She wouldn't walk past that graveyard alone, Ms. Patricia said. "I'm not scared of dead people," she added. "I'm scared of the walking ones."
The Iberville is bracketed by No. 2 on one side and by the smaller and older St. Louis Cemetery No. 1 on another. But historic maps show that No. 1, which now takes up one city block, once had a much larger footprint. Iberville archaeology reports are not yet complete, but the assumption is that the area containing the newly found caskets and bones was part of it.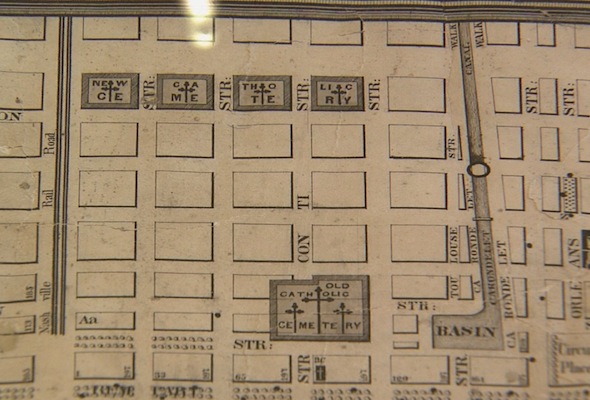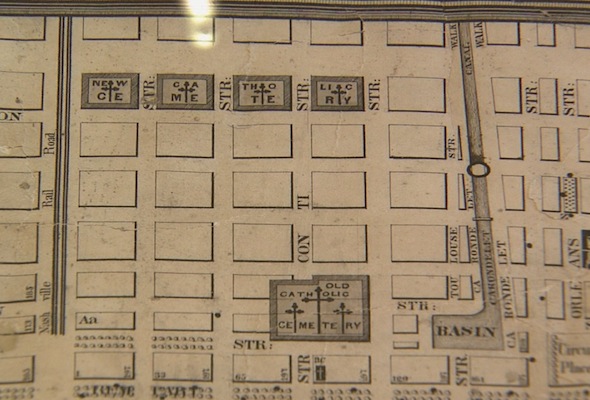 This 1840s-era map shows that St. Louis No. 1, in the lower center, once stretched beyond its modern-day boundaries. It's now confined to one city block, but it once extended farther toward Canal Street and Claiborne Avenue. Photo courtesy of the Historic New Orleans Collection, via WVUE.
"Cemeteries are always larger than you think they are," said Mary Manheim, who heads up the Forensic Anthropology and Computer Enhancement Service Laboratory at Louisiana State University. She has examined hundreds, if not thousands, of historic remains from New Orleans and other parts of the state.
Like the city's complex culture, New Orleans soil is often described as a "gumbo," a mixture of organic matter and clay that preserves bones well, she said.
Part of No. 1 was covered by the Storyville red light district before it was closed a century ago. Most of what remained of Storyville was razed to make way for construction of the Iberville, just before World War II.
Yakubik said that it's not clear who was buried in the area that's now part of the Iberville, but at least some of the bones and caskets likely were part of the cemetery's Protestant section, said cemetery expert and tour guide Robert Florence.
Preserving a heritage
Louisiana law enacted 30 or 40 years ago bars new construction on burial grounds. The idea is "once a cemetery, always a cemetery," said Angie Green, head of the nonprofit Save Our Cemeteries, which advocates for preservation of the city's 42 historic bone yards.
Previously, cemeteries had been less sacrosanct. The sub-surface St. Peter Street Cemetery, the city's first, stood on high ground, bounded by North Rampart, St. Peter, Burgundy and Toulouse streets. After catastrophic fires, floods and epidemics filled St. Peter to overflowing, the church in 1789 opened St. Louis No. 1 on what was then the outer edge of a swampy city but also conveniently close to Charity Hospital, which stood on North Rampart in those days. The St. Peter site was then redeveloped in something like its present form.
The housing authority has dealt with similar discoveries as other complexes were redeveloped.
At one point, plans to convert the former C.J. Peete development into the Harmony Oaks mixed-income community included plans to rebuild the storm-devastated Thomy Lafon School. Discovery of remains beneath Lafon associated with the Locust Grove potter's field scuttled that idea. The bone yard is now a grassy park, a permitted re-use under state law.
Parking garages for the New Orleans Centre and the Superdome stand on what was once the above-ground Girod Street Cemetery, a Protestant ossuary established in the early 1800s and deconsecrated in the late 1950s. The remains were moved elsewhere, but Saints fans blamed a string of losing seasons on there being a former graveyard below the gridiron.
During the 1980s, Manheim studied roughly 300 remains removed from what had been a Charity Hospital cemetery in order to widen Canal Boulevard. As a result, she said, we understand a bit more about how people lived during that time: the diseases they suffered, for example, and the possessions their families thought important enough to bury with them.
Archaeologists began digging in the Iberville several months ago, as part of the historic research required by federal law. Upon completion of the research, HANO and the city can roll backhoes onto the site and begin the phased demolition and reconstruction. One-third of the 74 brick buildings will be left standing.
Since the bones were found, architects have redrawn their plans for the newfound cemetery area to include only permitted uses: green space and preservation of existing buildings. The same number of planned apartments – 913, roughly one-third of them public housing – won't change, Gilmore said.
A legal alternative preferred by some developers is to move bodies from old cemeteries rather than revamp construction plans. When 15 coffins were unearthed in the course of constructing a swimming pool behind a North Rampart Street residence, property owner Vincent Marcello opted to have the remains studied at Manheim's lab and reburied in an extant cemetery.
At the Iberville, Yakubik mapped her findings, but left them in their final resting places. "If we came down on a casket, we stopped," she said. "If we found bones, we stopped."
City of cemeteries
Finding old remains in New Orleans is not that unusual, said Florence, the cemetery expert.
"How many people do you know who can look out their window and see a cemetery?" he said. "I know hundreds. Death isn't something you can stick in a corner in this city. There are graves everywhere. And we keep finding them."
Florence has made a habit of scrutinizing construction sites. "Every time I see roadwork, I pull over and look," he said.
In 1999, he saw a backhoe and a work crew in an Iberville courtyard and approached the workmen, "Seen any bones?" he asked.
"Yeah," they said, and pointed at a dumpster, where the foreman had instructed them to dispose of the bones and pottery shards they'd found. Florence called authorities but got nowhere, so he called The Times-Picayune. Reporter Coleman Warner drove directly to the Iberville and wrote a story that resulted in HANO halting its sewer-line replacement work until archaeologists could properly document the findings and preserve artifacts from the site.
As the post-Katrina overhaul got underway, residents watched closely — and warily — as Yakubik and her team dug in selected spots in the Iberville courtyards. No one says they've actually seen a ghost, but everyone grew up hearing the story of the teenage boy who dated one.
As the local legend goes, the apple of his eye left her purse in his car the night he took her to his school prom. When he brought it to her house to return it, the girl's mother said that she'd died years earlier and had been buried in the very gown he described her wearing to the prom.
Watch the report from Lens partner Fox 8: