Update 9/1: Clarkson issued a statement Wednesday night stating that she is "sorry that there were a handful of people in the crowd that didn't appreciate what I've done for them."
By Ariella Cohen, The Lens staff writer |
Marguerite Blunt, 91, remembers the 1950s as a time when she couldn't enter restaurants through the front door, or try on a dress before buying it.
"They figured you weren't clean enough," recalled Blunt, a Creole and a lifelong New Orleanian.
For Blunt and the millions of non-white Americans who survived segregation, the years before the civil-rights era were fraught with daily injustices as obvious as having to sit at the back of the bus or send your child to an inferior school, and as subtle as being forced to put tissue paper on your head before trying on a hat.
"We had to abide by the rules," Blunt said.
Given that history, public officials around the country have often avoided using that period as a reference point. Especially in the South. Not, however, New Orleans City Council President Jackie Clarkson.
Clarkson, 76, has been known to invoke the 1940s and'50s as the city's halcyon days. Sugary memories of her youth in Algiers, and her father, Johnny Brechtel, who helped found New Orleans Recreation Department in the late 1940s pepper council meetings. One familiar anecdote involves a 1949 issue of Life magazine wherein her father's work with NORD was recognized for its "progressive" approach to urban recreation.
Rarely in her reminiscences does Clarkson acknowledge that the city was, at that time, building separate playground for black and white children. Most recently, Clarkson spoke of the era while praising Mayor Mitch Landrieu at a public meeting in Lakeview.
"I never dreamed I would stand here and say this city is on the best roll I've been since I was a child," she told a racially mixed crowd. "For those of you who are also my age, is this not just like the '40s and '50s?
"It's that good, and we are back on that roll."
In this video, Clarkson's remarks of Aug. 24 precede three clips from Tuesday night. They show the complaint from an audience member, Clarkson's introduction to the crowd and then Clarkson's response to the crowd.
While the comment gained little notice beyond a few mentions on Twitter, it gained new life last night when an eastern New Orleans woman asked the mayor to tell the council president that black people did not appreciate it.
"The things Jackie's thrilled about … the '50s and '60s were not glory days for me and the rest of the black community," said Pearl Cantrelle, President of Kenilworth Civic Improvement Association, speaking at another meeting on the 2012 budget.
"I don't like sitting on the back of the bus or picketing on the steps of City Hall."
Cantrelle's comments drew applause and cheers across the vast Household of Faith sanctuary. And minutes later, Clarkson was greeted with boos from the mostly black crowd after she was introduced to the crowd, having arrived a bit tardy for the meeting. As the catcalls died down and she took her seat, Clarkson can be heard on a video recording telling an aide that she'd never been booed in her life.
"We've wasted our time. Let's go," she muttered to the aide, though they both stayed.
The mayor, however, apparently didn't hear Clarkson and decided, a few moments later, to hand off a microphone to the notoriously voluble councilwoman, so that she could explain herself to Cantrelle. And explain herself she did.
Clarkson, wearing one of her trademark printed silk neck scarves and a bright blue suit, began her speech with an earnest plea for the crowd of roughly 300 to understand that she would "never do anything to offend you." She had "opened a business out here in the '70s and always believed in you," she recalled.
After Hurricane Katrina, she had gone on "international television and said 'bring back the east, that's a valuable part of our city'," she said. "If that wasn't enough to prove how much I believe in you…I don't know what else to do.
"I've been out here as an At-Large Councilwoman, anytime there's been anything important and anytime I've been invited," she said.
As she continued well beyond the 30 seconds that Landrieu suggested she use for a response, angry voices began to rise around her and Clarkson's tone hardened.
"Excuse me, excuse me – no, I'm going to finish," she said. "I've never been treated like this in my lifetime, and I won't have it."
"I was referring to my childhood," Clarkson continued. "I had a very happy childhood. I'm not apologizing for that."
"Please don't be so rude," she scolded the crowd before explaining that her "father's best friend in the 1940s" was Morris Jeff Sr., "a black Ph.D. who I adored."
At that point, a woman in the back of sanctuary can be seen in the video standing to tell Clarkson that the she and others in the crowd "don't want to hear this" and encouraging the mayor to get on with the budget meeting.
Nonetheless, Clarkson kept talking. She loved Jeff like an uncle, so she "never thought about that being offensive," she said.
Clarkson concluded on a defensive note.
"I have defended you," she said, "I don't appreciate the treatment."
Though Landrieu, upon recovering the microphone, said that Clarkson had apologized, it is unclear if she did so.
After Landrieu commends her for apologizing, she can be heard on video saying, "I didn't apologize."
In a statement made to Fox8 following the release of The Lens video, Clarkson offered some clarification on what she was sorry for. " I'm sorry that there were a handful of people in the crowd that didn't appreciate what I've done for them," she said.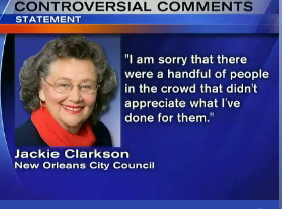 Following the confrontation, the meeting went on much like other budget meetings held by the mayor. Residents asked Landrieu to prioritize fighting blight, bringing retail to their community and reopening a hospital in eastern New Orleans. Landrieu ended his closing remarks with an offhand reminder to the crowd that Clarkson was his friend.
"I love Jackie," he said, speaking to no one to particular as people began to file out.