By Matt Davis, The Lens staff writer |
Some of the city's Criminal District Court judges are spending a lot more time on the bench than others, records compiled by the District Attorney's Office show.
At opposite ends of the scale for the 12 judges, Judge Robin Pittman spent 1,175 hours on the bench last year, compared to Judge Darryl Derbigny who presided over his courtroom for 726 hours, according to the district attorney's figures. Put into more familiar terms, those figures are equivalent to 29 and 18 weeks, respectively, at a rate of 40 hours a week.
District Attorney Leon Cannizzaro released the information in response to a public-records request made by our partners at FOX8 News.
Cannizzaro's office has kept track of whether a judge shows up as well as how many hours each judge was in court. The records released by the office contain little other information, such as whether the judge was handling other court-related obligations or any other reasons for absences.
Looking at whole days, not just hours, five judges were out of their courtrooms for the equivalent of at least 12 weeks of the year. State law gives judges six weeks of vacation for their $138,000 annual salary.
Cannizzaro declined comment amid ongoing controversy about judicial records following his release of Judge Laurie White's attendance record late last week.
Cannizzaro had released White's attendance record after she accused him of regularly orchestrating "pick and pleas" in his courtroom when he was a judge, as a way to boost his jury trial count, though White offered nothing to back her claim. Cannizzaro hit back, saying judges at least need to show up for work in order to clear their dockets, pointing out that White was in court on 73 percent of workdays, the least of all the judges, between March 2010 and 2011.
White may have shown up on just 73 percent of workdays over the past year, but Cannizzaro's figures actually show that she worked the third-most number of hours of all 12 judges at the court: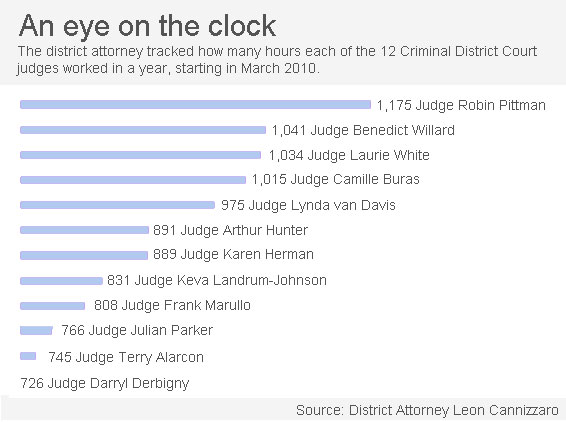 Meanwhile, Chief Judge Terry Alarcon appeared in court on 94 percent of workdays, but he sat on the bench for an average of just three hours on those days, while other judges worked almost six hours on average, according to Cannizzaro's numbers.
One court expert said it is difficult to say who works hardest based on these numbers and that some judges are simply more efficient than others.
"I think that some of the judges can work harder," said Courtwatch NOLA boss Janet Ahern. "But I don't think that the number of hours on the bench or the attendance records are a reflection of a good judge or a bad judge."
All of the judges have committee and organizational responsibilities in addition to sitting on the bench, although Alarcon has the most side commitments in his capacity as chief judge.
White questioned the accuracy of Cannizzaro's data in a three-page statement last week, but only Judge Arthur Hunter responded to a request for comment to all the judges, made through a spokeswoman.
"While the District Attorney is not my boss, I am always open to discuss ways to improve the efficiency of both the D.A's office and the courts," he wrote.