A day after 6-year-old Shaud Wilson was killed by a car while crossing the street to his school bus stop, another student was struck by a car after he got off his bus.
On the afternoon of Feb. 4, Desean Denis stepped off a bus on Berkley Drive, a two-lane residential street in Algiers, on his way home from Paul Habans Charter School. Torri Denis, Desean's father, said the bus drove off. As Desean started to cross the street, a car drove by and struck him on the left cheek with its passenger-side mirror.
Desean was knocked to the ground. Torri Denis said his son lost his two front teeth, severely cut his tongue, suffered head injuries and was bruised on his arms and legs.
The father is upset that the bus drove away after Desean got off. "You probably wouldn't want to pull off until you see that they have arrived safely," he said.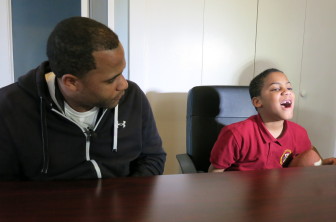 Desean's bus is owned by Hammond's Transportation, the same bus company that handles transportation for Shaud's school. Raven Murthil, Hammond's safety manager, said Thursday that company policy requires students to walk in front of the bus, instead of behind the bus. That's in line with state transportation guidelines.
That day, Desean got off the bus and walked to the sidewalk — rather than in front of the bus — before crossing the street, Murthil said.
The bus pulled off, and the driver wasn't immediately aware of the accident, she said.
Shaud's and Desean's schools are run by Crescent City Schools, which contracts with Hammond's.
Educators and city officials discussed how to improve bus safety at a forum Wednesday night. Among the options discussed:
Centralize transportation, with the Orleans Parish School Board or the Recovery School District handling it rather than the city's 40-odd charter school groups contracting separately with bus companies.

Put crossing guards on highly-trafficked routes.

Put more traffic cameras near school zones and along busy thoroughfares.
A live blog of that forum is below.
Murthil stressed that student safety is a priority for Hammond's. Had Berkley been a multi-lane road, she said, the driver would have waited for children to cross the street before pulling off. And children nine years or younger are not allowed off the bus on those busy streets unless their parents or an older sibling is waiting to escort them across.
"If a driver lets a kid off of the bus under nine without a parent or an older sibling there, it's a five-day suspension on the first offense. The second time, it's a termination," Murthil said.
Denis said he is exploring his legal options. His attorney, John Williams, said Thursday that a police report on the incident was not yet available. Unlike in Shaud Wilson's case, this driver didn't leave the scene.
The third-grader said he doesn't remember anything other than lying on the ground.
"The doctors are doing a great job with him," his father said. Still, the boy's injuries are slowing him down a little. Homework is frustrating.
"He didn't remember that he had spoken with his mom that night, or the next day," Denis said.
Fox 8 News video
Live blog of public forum