Rosa Park, Dunleith Court and Richmond Place are posted with "private street" signs. But the properties aren't taxed. Assessor Erroll Williams says something has to change: They may be public if the city has maintained them. If they're private, someone will have to start paying taxes.
"Rosa Park Private Street Do Not Enter" reads the sign near St. Charles Avenue, marking the entrance to a block-long street of $1 million-plus mansions near Tulane and Loyola universities.
At a distance, the sign looks officially sanctioned. It's bolted to a metal pole directly below a "no parking" sign marked "DPW," the New Orleans Department of Public Works. It's similar in appearance to the Public Works sign, too, printed in municipal red-on-white.
Examine them up close, however, and you notice the private-street sign's background is bright white — several shades lighter than the Public Works sign — and its red font is slightly different. Nothing on it points to a city department or recognized neighborhood group. It looks cheaper and flimsier, as if it were a quick custom job ordered from a make-your-own sign website.
Nearby, similar signs warn outsiders from entering equally well-to-do Dunleith Court and Richmond Place.
But it's not at all clear whether the streets are indeed private, Orleans Parish Assessor Erroll Williams said in response to questions from The Lens and Fox 8 News.
If officials determine that they're public, the streets officially would be dedicated to the city and residents would have no legal right to deny entry to the public. If they decide that they're private, Williams will levy taxes on the streets and perhaps try to collect some back taxes. But from whom? He doesn't know who the owners are.
Williams believes the private designation can stand for one part of Richmond Place, between Loyola Avenue and the point at which Liberty Street would intersect the road. Homeowners' lots there, he said, extend to the middle of the street.
Attorney Keith Hardie, who brought the issue to The Lens' attention, noticed that the assessor's records treat the streets as any other public thoroughfare, apparently untaxed and without private owners.
Hardie has been engaged in a long legal fight to force the city to remove an illegal fence blocking Newcomb Boulevard, a public street. The city has yet to remove the fence despite orders from an Orleans Parish district court and a state appeals court.
Hardie researched private streets after a Lens article noted the assessed value of Audubon Place, whose status as a private street is not disputed.
Hardie said he was surprised to learn that Rosa Park, Dunleith Court and Richmond Place may not be private.
Growing up Uptown and attending De La Salle High School, he said, he always believed they were in fact private. "That's sort of the folklore of Uptown New Orleans. Whether it's true folklore or false folklore, we don't know yet."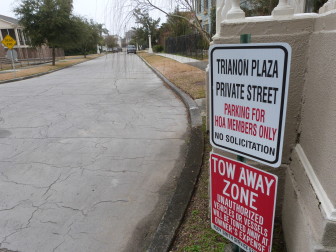 Records filed with the city's Department of Property Management show the streets were dedicated as "private residential parks" between 1893 and 1911 and never turned over to city control.
Despite the city's records, Williams said city officials have told him they have performed work on the street, which could make the streets public.
"We've been researching and trying to identify them. We're not concluded," Williams said in an interview.
In another case, Trianon Plaza, a private street purchased from the city by a homeowners association in 2006, is exempt from paying taxes on the property. That's a mistake, Williams' spokesman Devin Johnson told The Lens.
The same will go for each of the three streets in question if they're private.
"When you discover it, you put it on the rolls if it's taxable. The question is, is it taxable?" Williams said, adding that he will request an opinion from the Louisiana Attorney General's Office on whether the streets should be taxed.
If they are taxable, he added, then the question becomes: Who pays the tax?
Figuring that out could mean digging into city records more than 100 years old, back to when the streets were dedicated.
If the city has maintained it, the street is public
Williams first will have to find out whether the city has provided services on the street.
Under state law, all roads "kept up, maintained, or worked for a period of three years" with the knowledge of residents "shall be public roads or streets." A 1992 City Attorney's opinion says that when the city has maintained a street for three years with the knowledge and consent of adjoining property owners, it tacitly becomes a public street.
Ironically, the gist of the opinion was that the city had no responsibility to maintain Richmond Place, since it was a private street. Williams, however, said officials from the Department of Public Works have informed his staff that the city has, in fact, performed work on Richmond, Dunleith and Rosa Park.
"According to our verbal discussion, they have done maintenance on the streets. Remember, these issues go back 100-plus years, some of them," Williams said. "In all cases, I'm almost certain the city's provided services on these streets."
Asked to respond, Mayor Mitch Landrieu spokesman Tyler Gamble said via email: "The streets in question, which have been private for over 100 years, have not been maintained consistently by the City over a period of three years."
One resident argued that the city doesn't doesn't do street maintenance on Richmond Place.
"I think there's a dispute on whether the street is private or not private. I don't think he's correct," he said when told of Williams' comments.
The man, who spoke in front of his home and declined to give his name, said the city previously told residents the street was private when they requested public services. "What am I basing it on? The fact that when we had to repave this street, we had to pay for it because the city said it was a private street."
City records maintained by the Department of Property Management support that claim.
"I can't tell you who owns what, but I can tell you it's not the city," said the city's Real Estate Administrator Martha Griset, who provided copies of servitude agreements establishing the streets as private residential parks.
She said that if the private streets were later given over to the city, that would have been codified in a municipal ordinance, as was the case for Everett Place, first developed in 1905 and dedicated as a public street in 1906.
If private, streets must be taxed
Should Williams and the Attorney General agree that these three streets are private, they would have to be partitioned off as separate, private parcels.
"In most of the gated communities, we have the streets isolated as a separate parcel. That's the only way you can do it if you put it on the tax rolls," Williams said.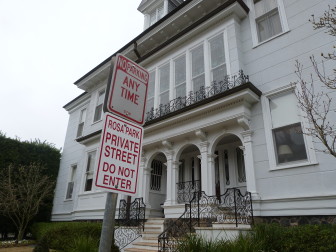 Assessor's records show that Audubon Place — the street itself — is a parcel with an address: 27777 Audubon Place. In 2012, Williams created and assessed 27777 Audubon Place at $500,000. Its owner, the Audubon Place Commission, pays about $7,400 per year in taxes on it. Before 2012, the parcel was not taxed.
Likewise, 100 Trianon Plaza, the address of the private street, is owned by the Trianon Plaza Homeowners Association. Trianon Plaza was sold to the homeowners association, which agreed to pay for street maintenance, in 2006 for $97,000. The property is currently assessed at $272,000.
Unlike Audubon Place, Trianon Plaza is exempt from property taxes. But Johnson said that's because an Assessor's Office employee made a mistake.
He said the property was exempted from taxes by Williams' predecessor. In 2011, the office "purged all nonprofit exemptions for which we did not have complete records."
The homeowners association reapplied for an exemption, Johnson said, "and an office staffer incorrectly returned the parcel to its previous exempt status. Our staff is taking immediate steps to correct this oversight."
Michael Dezura, president of the Trianon Homeowners Association, did not respond to The Lens' request for comment.
Who would pay the bill?
State law lets Williams assess three years of back taxes on the new parcels.
"Whether they should be taxed or not taxed, that's something that becomes more a legal issue now. The next question is who should we tax," Williams said.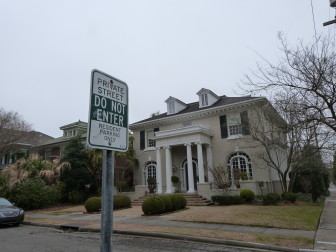 Williams said he would have to identify the last recorded owners of the land under the street. Their heirs would be responsible for the taxes, he said.
"If it's taxable, I'm going to create one parcel, and whoever the last known owner was, that's the name we're going to put it in," Williams said.
Property Management records show the last owner of Rosa Park was Durant da Ponte, a former Confederate soldier turned journalist and editor of the Daily Picayune, according to a history of Uptown residential parks. Dunleith Court was owned by the widow of Samuel Wiggins, who is identified in public records only as "Widow Samuel M. Wiggins." At its dedication as a private street, Richmond Place was jointly owned by eight developers.
Williams is not optimistic about collecting from the da Ponte heirs or any of the others, though. In that case, the parish could seize the property and put it up for tax sale.
It would likely become the homeowners' problem, he said. However, unlike Audubon Place and Trianon Plaza, there are no homeowners' associations on Dunleith Court, Richmond Place and Rosa Park.
"Whether or not the owners are going to pay a pro rata share, or whatever, if they've got to create a neighborhood association, that's their decision," Williams said. "I can assure you that usually with cases like that, we'll be involved in some litigation as to whether I'm doing it the right way. Because people come and pay taxes, and all of a sudden they get burdened with something they didn't know they had."