By now, no one would begrudge John Barry the right to lick his wounds and quietly limp out of town.
After all, as leader of the lawsuit against oil and gas companies filed in August by the local Flood Protection Authority, the distinguished historian and author has taken a public beating from Louisiana officialdom.
Gov. Bobby Jindal and his coastal chief, Garret Graves, didn't just disagree with the merits of a suit seeking to force oil and gas interests to pay for damaging the coast — they questioned Barry's integrity. They accused him of being a front man for money-hungry trial lawyers, a publicity hound less interested in flood protection than in generating headlines that sell books.
It didn't stop there. The association of state levee boards piled on, denouncing the suit and throwing its support to the administration.
And finally, the authority's nominating committee refused to recommend Barry for another term, its members saying that they didn't want to annoy the governor or that Barry was not as qualified as newcomers with no experience — this after Barry, a recognized expert, had served seven years without pay, fighting in Baton Rouge and Washington, D.C., for a safer flood defense around the New Orleans area.
The message seemed clear: Go away, John Barry.
But Barry isn't putting New Orleans in his rearview mirror. He cites two primary reasons: It's home. And he isn't finished fighting back.
"This is my home not just in the figurative sense; it's the place I choose to live," Barry said. "I've made my home here for 20 years because I love this place.
"And my involvement in the lawsuit," which the flood authority has not abandoned, "isn't over by any means. In fact, I might be even more involved now because I have no constraints. This fight is far from over."
That pronouncement won't surprise Barry's allies or, for that matter, his opponents. They have come to understand that his advocacy of causes he believes in is as dogged and consuming as the research he puts into his highly esteemed books.
If anything, the beat-downs administered by the political establishment seem only to have stoked two of Barry's passions: keeping politicians out of flood protection management, and getting the oil industry to help finance the Master Plan for the Coast, the state's last-ditch effort to prevent southeast Louisiana from being consumed by the Gulf of Mexico.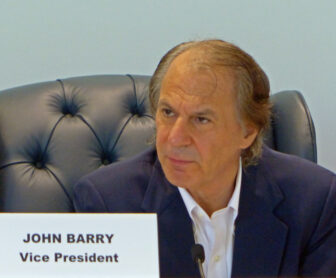 Even as he prepared for Wednesday's meeting of the Coastal Protection and Restoration Authority board — on which he still sits, though maybe not for long — Barry was analyzing what his recent blows mean, critiquing the administration's performance, and arguing the merits of the lawsuit.
Although he remains a member of the Flood Protection Authority until the governor selects and the Senate approves a replacement, Barry knows that's just a matter of time. (Update: On Wednesday, the governor's office announced that he had picked someone Joe Hassinger for Barry's seat.)
Graves said the governor's office is reviewing the candidates submitted by the nominating committee, and they've already conducted a first round of interviews.
Being replaced will silence Barry's official voice, but it won't inhibit his public participation.
"I'll certainly be a vocal advocate for the suit and its goals," he said. "And should the board ask to consult with me, I'll certainly be ready to do that."
His biggest disappointment so far: that the six-year experiment in keeping politicians out of levee management ended with some nominating committee members admitting that they rolled over and voted against his renomination because of political pressure from Jindal.
Like many survivors of Hurricane Katrina, Barry recalls the public dismay over the old levee board's complicity with the U.S. Army Corps of Engineers in the collapse of the city's flood defense. He remembers the public pressure to restructure and professionalize the levee board, to immunize it from exactly the kind of political meddling to which he has fallen victim. That pressure led to a statewide referendum and the creation of the Flood Protection Authority.
Opponents of the suit, including members of the House and Senate committees that wrote the law creating the board, said that was never their intention. They argued that by acting without the governor's permission, Barry and his fellow board members were not following the intent of the Legislature.
Barry still disagrees.
"The idea was to keep politicians from deciding things, that's why the nominating committee included only professionals — no elected officials," Barry said. "That was something really unique, something we could be proud of because I don't think any other state has anything like that."
In Barry's view, nominating chairman Jay Lapeyre surrendered to the worst kind of political pressure in saying that the governor's threats against Barry made resistance futile.
"And, of course, now that they have let this governor do it, what's to keep the next one or some senators from doing the same thing?" Barry asked.
Barry was also shocked by the committee's decision not to nominate Tulane professor Tor Tornqvist, a leading expert on subsidence and sea-level rise.
"How can you not nominate clearly one of the most qualified people, not just in Louisiana but probably the whole country?" he asked. "You can't justify that — unless some of those folks were told not to vote for him."
Before the voting started, Lapeyre said he had not been contacted by the administration or any elected officials on the issue. He then asked if any of other members had been contacted. No one said they had been.
Jindal's stated mission — to replace the three outgoing board members with nominees opposed to the suit — won't end the legal action against oil and gas companies even if the new members oppose the suit, Barry said, because the nine-member board voted unanimously to file it.
"The board was solidly behind the suit," Barry said. "It wasn't just me and Tim" Doody, board president.
Graves has maintained that his main objection to the suit isn't based on protecting the oil industry, but in keeping it involved in volunteering to help with restoration. He says the suit could destroy years of work getting varying coastal interests together.
"Garret keeps talking about a plan [that involves oil companies] but he has yet to produce one," Barry said. When asked by The Lens to list plans with oil companies that have been put in jeopardy by the suit, Graves declined.
Barry still believes the only way the state will find the money for the $50 billion Master Plan and to operate and maintain the new levee systems is to tap into Louisiana's major economic resource, the oil and gas industry.
He also thinks the lawsuit provides political cover for a governor to make the industry an offer it can't refuse: Support an increase in royalties on oil and gas produced and flowing through the state in exchange for immunity from future lawsuits. Such a deal would provide permanent funding for the coast from what Barry believes is the only reliable source.
"I've said all along Gov. Jindal has been a good governor for the coast, and this was a chance for him to become a great governor for the coast," Barry said. "If he made that kind of a deal, we would absolutely go along with it."
He continued, "This was an opportunity for the governor to provide funding for the whole coast because, frankly, other levee districts have suffered a lot more loss from oil and gas activities than we have."
Barry even has appreciative words for Graves, stunned as he was by the personal charges Graves leveled against him.
"I still think he's done an excellent job developing the Master Plan and I'm not going to take any of that stuff back — but he went over the top during this thing," Barry said.
But he also thinks Graves 
has unintentionally helped the lawsuit with some of his public statements.
"He has been quoted as saying, 'I will be the first to admit there's liability there, for the oil and gas industry.' So the next question is, if you agree with us they're destroying land, why are you against the lawsuit?" Barry said.
Barry is scheduled to come face-to-face with Graves Wednesday. Coastal Protection and Restoration Authority members are appointed and can be removed by the governor, but Barry expects the meeting to be cordial, even with the lawsuit proceeding.
"A few weeks ago Garret told me he still wanted me on that board — and I still want to serve," Barry said. "But we're definitely moving forward with the suit."
The legal team representing the local levee authority continues to gather evidence and is working against efforts promised by the Jindal administration to have the case killed by legislative action next spring.
"We're talking to the legislators to help them realize they should not intervene in what should remain a legal process," Barry said. "Nothing really has changed – except I'll have even more time to spend on the suit now."