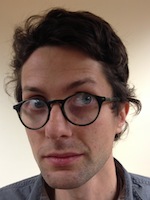 Charles Maldonado joined the staff of The Lens this week, giving us a complement of six full-time reporters. As our government accountability reporter, Maldonado will cover the city of New Orleans and myriad other entities in the city that spend public money.
The main reporters are on the front lines of an operation that also includes 15 to 20 regular contributors to the Charter School Reporting Corps, which covers practically every charter board meeting in New Orleans — more than 500 a year.
"Charles has proven that he has a keen news sense and the ability to track down a story important to the public, whether others want it told or not," Lens editor Steve Beatty said. "His clear, clean writing will make our staff even stronger, and bring our readers even more unique, watchdog journalism."
Maldonado has been a friendly competitor of sorts while working at Gambit, New Orleans' alternative newsweekly, since 2011.
"I've been a great fan of The Lens since I came to New Orleans," Maldonado said. "I'm tremendously excited to be working with such a talented team."
Maldonado is the third reporter to join our staff in the past six months.  The expansion coincides with rapid growth in our traffic and audience. The Lens has had record traffic and audience for the past five months; April's page views and audience are 2.5 times what they were in October. Though we've continued to draw new visitors, our metrics show that returning users are visiting us more often. Mobile traffic is growing, aided by our new site that looks great on a smartphone or tablet.
In addition, thousands more are reading us in The Advocate, in print and online; on NOLA.com; in The Louisiana Weekly; in Gambit and in a variety of outlets around the state that have taken us up on our offer to republish our stories for free. And tens of thousands have heard our stories on WWNO-FM or seen our work on WVUE-TV, which has partnered with The Lens from our inception in 2010.
People are responding to The Lens reporters' mix of deep-dive stories, analysis and live coverage in our core subject areas:
Criminal Justice, staff writer Tom Gogola
Schools, staff writer Jessica Williams and charter schools editor Rebecca Catalanello
Government & Politics, staff writer Tyler Bridges on state-level politics and policy; staff writer Charles Maldonado on local government
Land Use, co-founder and staff writer Karen Gadbois
Environment, staff writer Bob Marshall
In addition, opinion writer and engagement specialist Mark Moseley is proving to be a versatile and widely read source of news about New Orleans. His daily What We're Reading roundup points people to must-know news from all news outlets in New Orleans and key sources nationally.
With Maldonado's hire, we can focus more on local government, which we believe needs more coverage than it's getting from traditional media.
Maldonado already knows New Orleans government from his previous job at Gambit. There he covered:
The local criminal justice system, with a focus on the federal consent decrees to overhaul the New Orleans Police Department and Orleans Parish Prison
New Orleans City Council and the Landrieu administration's overhaul of the city personnel system
Local mental health issues, including the closure of the Southeast Louisiana Hospital in St. Tammany Parish
Maldonado came to New Orleans in 2011 from Nashville, where he covered local and state government for the Nashville Scene and the Nashville City Paper. Prior to that, he worked for the Metro Pulse in Knoxville, Tenn., where he received awards for his reporting of the billion-gallon coal ash spill at a Tennessee Valley Authority power plant in Kingston, Tenn.
A native of Detroit, Maldonado lives with his wife in New Orleans, and they're expecting a daughter soon.
Maldonado's position is financed by a grant from Baptist Community Ministries. That prominent New Orleans philanthropy this year joined a growing list of local and national foundations who support The Lens and recognize the importance of preserving independent, public-service journalism for New Orleans' future.