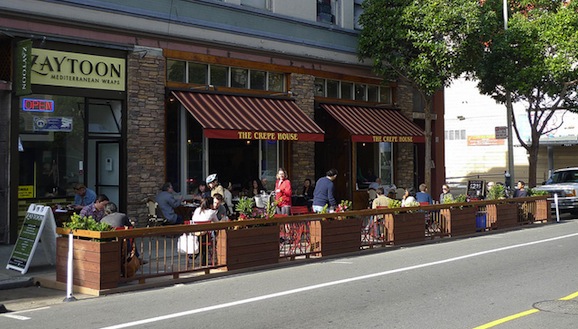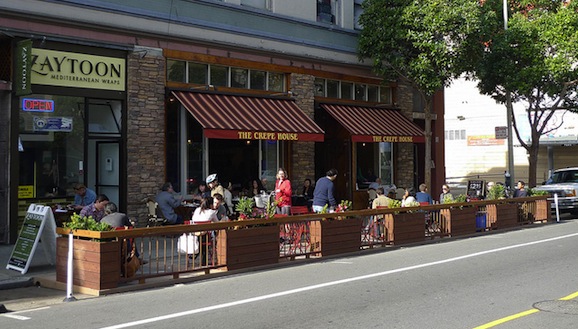 A San Francisco parkette (a.k.a. "parklet") appears to have devolved to largely commercial use by adjacent shopkeepers. photo: Mark Hogan/creative commons
Editor's note, Aug. 10: The Lens has retracted and apologized for the story that appears below. A key component of this opinion piece is that Civic Center co-founder Candy Chang is driving a process to create "parkettes" along St. Claude Avenue. That is not true. Civic Center is involved in a separate effort along St. Claude that is financed by the same cooperative grant. The purpose of keeping this story online with this note is to assure that future Web searches or uses of the already-public URL will not present the original story without disclaimer.
————-
This summer, the St. Claude Main Street organization, in collaboration with local design company Civic Center, was awarded a $275,000 grant from ArtPlace, a non-profit that funds arts and urban design projects. At a meeting held in June, the St. Claude organization invited local artists along the artery to "help shape the grant." Civic Center's co-founder, Candy Chang, was notable by her absence from the meeting.
That may have been a savvy political move on her part, as a large portion of the $275,000 grant is for Chang's latest pet project, "parkettes," mini parks that she hopes to string along St. Claude Avenue. A more honest assessment of community sentiment and values would reveal little support for Chang's vision.
Parkettes are an idea born of the need for green space in dense urban areas, such as those that lack a broad, grassy neutral ground, like the one that runs down the middle of St. Claude Avenue. They are often built on top of parking spots and are meant to enhance public spaces and encourage walkability. St. Claude is an arts destination and portions of the grant, the audience was told, are to support the local arts community. However, St. Claude Main Street and Candy Chang's effort to dress up the parkettes program as an idea that has somehow bubbled up from the surrounding community is disingenuous.
Cities are a hot topic these days, and arts-centered planning is all the rage. This trend owes heavily to urban studies theorist Richard Florida and his faith that building a "creative economy" attractive to "the creative class" is the road to urban revitalization. These "creatives," Florida posits, drive a broader economic resurgence, and not surprisingly, many city boosters and developers are clamoring for expert assessments on how to lure and retain them.
Chang, whose Civic Center has spawned the web start-up Neighborland, is very much a part of the movement. Locally she's probably best known for her Marigny installation, "Before I Die," a public art piece propelled by the idea of creative "place making." Stemming from Florida's theories, creative place making has been touted as a kind of branding tool to transform urban areas into art destinations. Chang has done quite well capitalizing on this trend, touring and selling "Before I Die" toolkits and merchandise in cities around the world. Likewise, her "I wish This Was" project, through which she encouraged people around New Orleans to put stickers on existing structures proclaiming what they wished was there instead, took this kind of participatory urban planning a step further. Neighborland can be seen as an online analogue to the stickers. Now, with the St. Claude Avenue parkette program, Chang is making the leap from sticker dreams and cyberspace to the Marigny/Bywater/St. Claude area's principal thoroughfare.
At the community meeting with artists, St. Claude Main Street board members pointed to the proliferation of parkettes in San Francisco as a model worthy of emulation. It seemed possible that glib reference to San Francisco was made without a clear understanding of that city's rules for determining the feasibility of parkette placement:
– Sizeable area of under-utilized roadway
– Lack of public space in the surrounding neighborhood
– Pre-existing community support for public space at the location
Are parkettes sensible for a state highway such as St. Claude Avenue? Regarding pre-existing community support, one local architectural historian, commenting anonymously so as not to complicate workplace relationships, observed: "It's interesting that Candy Chang has produced multiple venues for people to voice their wants and needs for their neighborhoods and yet chooses to ignore what she herself has manufactured. Neighborland and the 'I Wish This Was' installations have been described as tools to be used 'so the future of our communities better reflects our desires today.' But is there any desire for parkettes in our neighborhoods? A search of Neighborland came up with zero matches for parkettes. If the website is the supposed voice of the people, then haven't we already spoken?"
Other critics have questioned whether parkettes are truly public or will long remain so. They are intended to be maintained by municipal park services, in partnership with departments of streets and public works. But as already overstretched budgets shrink further, cities have tended to hand them over to private businesses, such as restaurants and cafes that want outdoor seating. Thus does commerce colonize what was intended to be public space, a recurrent theme reflected in many of Civic Center's ventures.
Commercial development, of course, is not inherently evil. Neither is improvement of streetscapes. But there's something unseemly about the whole business of fabricating an aura of community support for a public project that in time diminishes public space. The City of San Francisco estimates parkette construction costs range from $12,000 to $20,000 per park. Neighborland's Alan Joseph Williams, a St. Claude Main Street board member, said that with the ArtPlace grant the group hopes to build four to six parkettes. That could eat up more than a third of the grant budget — not including Chang's consulting fee.
Asked at the meeting why St. Claude Main Street partnered with Civic Center, manager Michael Martin said it was because someone at Civic Center knew the people at ArtPlace. That would be Chang, who has an established relationship with ArtPlace director Carol Coletta. Coletta is the former president of CEO's for Cities, a global urban think tank, and a prominent adherent of Florida's creative economy theories. She's big on arts-centric place making, as a recent tweet makes clear. "Artists are leading the way in real estate, not developers," she wrote.
A more nuanced and place-sensitive approach to this kind of development has long since been advocated by the Project for Public Spaces, founded in 1975 and responsible for over 2,500 urban enhancements worldwide. It has set the standards for what place making is — and for what it is not. Above all, the Project for Public Spaces stresses that place making is not a one-size-fits-all concept; it does not impose a top-down decision-making structure, and it is not design-driven.
ArtPlace is funding the construction of parkettes in cities big and small, from New York, San Francisco, and Philadelphia, to San Jose, Memphis, and Nashville. Does St. Claude Avenue need four to six parkettes just because other cities have them? And if place making is not design-driven, why is designer Chang written into the grant? If participation is not top-down, why has St. Claude Main Street and Civic Center decided to foist upon the New Orleans landscape the same idea being promoted everywhere else?
The late Jane Jacobs, eternal foe of cookie-cutter approaches to "urban renewal," spoke with informed passion about what she had diagnosed as the essence of any city's vitality: public human activity. Today, planners, designers, and architects have chosen piecemeal aspects of Jacobs' work that potentially embrace those ideals. But Jacobs was against "design cults," which she lamented overlooked the obvious in city building — specifically, the people.
As St. Claude Main Street and Candy Chang embark on their pre-formed plans for the Marigny, Bywater and St. Claude neighborhoods, it might be a sound idea if they got to know their neighborhoods a little better before telling the people what they want.
———————
Christine P. Horn is a Marigny resident.