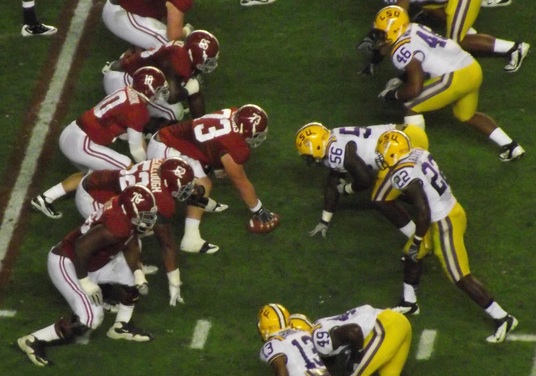 After the LSU Tigers won the "Game of the Century" in overtime back in November, reporters immediately asked coach Les Miles about the possibility of a rematch with Alabama's Crimson Tide in the BCS championship game. Instead of deflecting the question, or saying, "I'd prefer to play a team we haven't already beaten," Miles said, "It would be an honor to play that team again."
At the time I thought, "Damn, that's a classy thing to say. Does he fully understand what he means?"
Apparently, he didn't.
In a stunningly one-sided championship game, the Tide suffocated the Tigers last night. Afterwards, Miles told his team, "I didn't see it coming." I doubt any Tiger fans did, either.
While I didn't predict Alabama's revenge win, I'm not utterly shocked by it. Sadly, I have a few insights about rematches in championship games, gained from bitter firsthand experience as an alumnus of Florida State University.
Before I get to that, let me air a gripe. Several times ESPN called last night's game "The Fifth Quarter in the French Quarter." That was a misnomer and subtle insult to LSU. The Tigers and Tide already played a "fifth quarter"– it was the overtime period in the first game, in which the Tigers prevailed. The original "Fifth Quarter in the French Quarter" was was the 1995 Sugar Bowl game, between the Florida Gators and Florida State Seminoles. The archrivals had played just a month earlier. The Gators dominated the first three quarters. Trailing 31-3 in the fourth, the Seminoles mounted one of the great comebacks in college football history and scored four touchdowns to tie. So the "Fifth Quarter" rematch in the Superdome, which carried no national title implications, was entirely fitting and proper. (The Seminoles won it, led by running back Warrick Dunn, a Baton Rouge native.)
An entirely different situation developed two years later, when the Seminoles beat the number one ranked Gators during the regular season, only to face them again in the Sugar Bowl, which became the de facto national championship game of 1997. The Gators were coached by Steve Spurrier. Back then Spurrier was considered an offensive genius, much as  Alabama coach Nick Saban is considered a defensive genius. And Spurrier truly whipped the Noles that night. While he complained to the media for a month prior to the game about the Noles' rough handling of his delicate SEC team, he was busy tweaking his innovative "Fun and Gun" offense for the rematch. The new adjustments worked with frightening efficiency, and the Noles had no answer for the Gators, who won 52-20.
I'll never forget how I felt in the mid-fourth quarter, as I shared the Superdome concourses with other dejected Seminole fans heading to the exits. Why did the offense look so bad? How did the Noles get so thoroughly outcoached? Why did we have to play this team twice?
Over the next year, as I marinated in football vinegar, I reached an important insight about sports: the quest for redemption (and revenge) motivates more intensely than the pursuit of perfection.
And that's part of what happened last night. The Alabama players burned for this rematch with LSU, and they made the most of it. Their special teams and offense were much more focused, and their defense executed almost flawlessly. They simply looked more determined than the Tigers. Nick Saban devised a strong game plan and prepared them well.
Which brings me to my next important insight about college football: at all costs, avoid a rematch with a defeated "evil genius" (like a Spurrier or a Saban).
I cannot stress that enough, and it's part of why I feel LSU got a raw deal with their BCS-designated opponent. LSU already beat Alabama, in Tuscaloosa, yet their victory was discounted as a "pseudo win" because it occurred in overtime. (Miles is familiar with this shoddy argument.) That's one of the reasons the Tide didn't fall far in the polls and was able to creep back into the title game. LSU went 13-0, beat eight ranked teams and won the strongest division in the strongest conference in football. They deserved a title romp against a team like Oklahoma State. Instead, they drew the scariest championship opponent imaginable: a rematch with a Tide squad thirsting for revenge, guided by a genius coach with quasar-like intensity.
Yes, LSU's coaching staff and offense were overwhelmed by Bama last night, but that only means they are human beings like the rest of us. We are all prone to lapses and blindsiding. Sure, Alabama (12-1) gets all the glory this year, even though they travelled an easier road than LSU, and even though LSU (13-1) still has a better record.
Tiger fans are profoundly disappointed with their team's performance last night. (Trust me, I can sympathize with that feeling.) But it's those same maddening vicissitudes that make college football so great. This season's bitter disappointment makes for next season's redemption: and perhaps that redemption will come during Alabama's next visit to Baton Rouge.